-Penned by Kaavya Kumar, a 16-year-old volunteer
I interned at Sharana for 3 weeks and it was a great experience! I met many different people, got a taste for what working both at an office and an NGO feels like and about the effort it takes to successfully run and sustain an organization. Most importantly though, I got perspective on what life is really like for some people and the bravery it takes to live in these situations. The work that this organisation is doing is so valuable and impactful, and I feel proud to have helped, even if it was just for a short time. 
Firstly, I helped with the Social Entrepreneurship Program profiles and it was really interesting to read the background information about all the beneficiaries – it amazed me how they not only managed to persist through their difficult circumstances, but also had the drive to start their own business, which is a very risky decision. All of the stories were so inspiring, and really put into perspective the privilege I have – to be able to take simple things, like having two loving parents and access to the internet, for granted.  
(Women's Social Entrepreneurship Program (SEP) is a flagship project of Sharana, and a step towards economic empowerment of underprivileged women. The program provides microcredit to underprivileged women for establishing their own small business or developing an existing business.)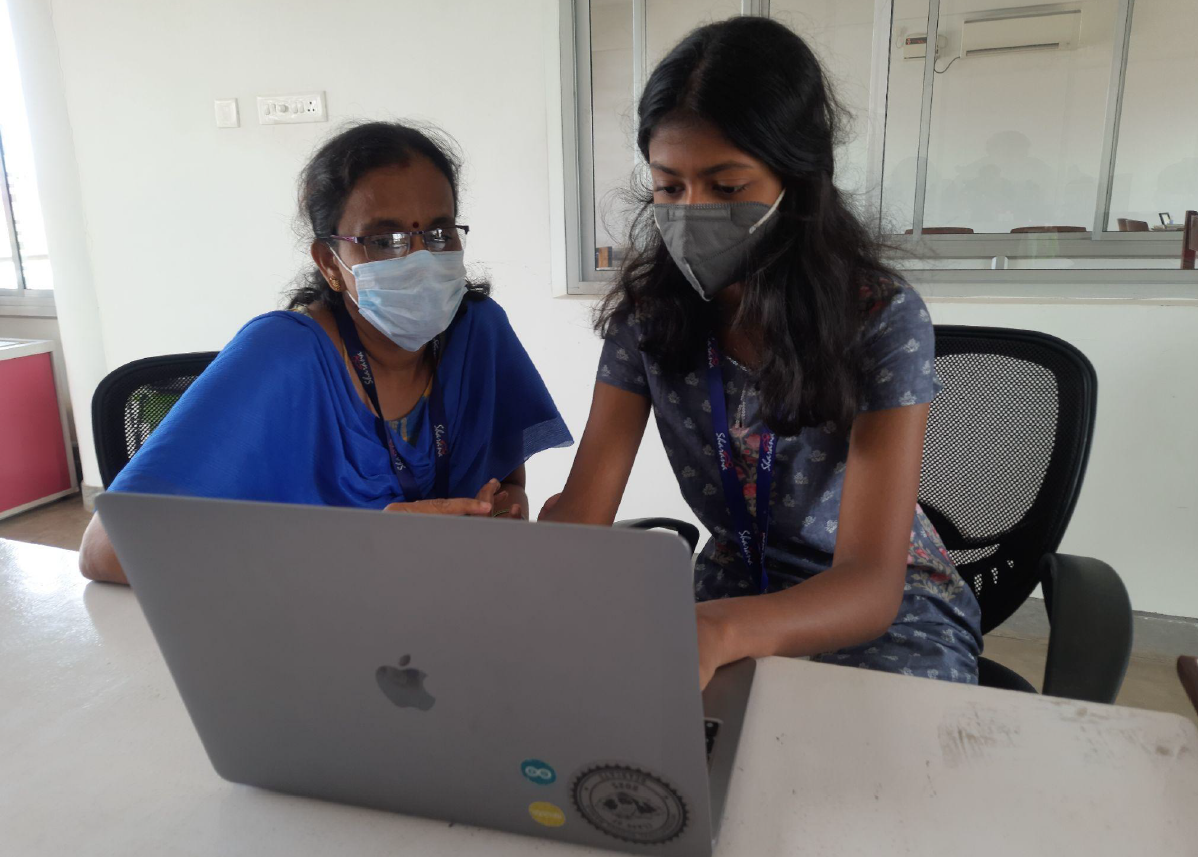 I also helped three of the social workers learn spoken English. This was easily the part I was most nervous for – before the first lesson, I was racking my brain, trying to think of what I can ask them, how I would break the ice, whether I can help even a little bit. In the end, I decided to ask them to tell me about their experiences in Sharana. When I got to the lesson, I found that there was nothing I had to be worried about – they were warm and welcoming, and genuinely wanted to learn English. In the first lesson, I asked them to introduce themselves and what they do at Sharana. I corrected some of the sentences and gave tips on how it could be better. In the next lessons, I asked for stories about their experiences and about the people they had encountered through their work. At first, the social workers were a bit shy to talk in English, but as the lessons went on, they became more comfortable and asked many questions. By the end, they created a PowerPoint presentation the programs they are a part of at Sharana. Through these lessons, I heard about so many stories of amazing women who fought through tough times and worked extremely hard to make a better life for themselves and their children. 
I also helped in computer classes that are held for children from the 9th standard to college. This was a very interesting experience; I didn't teach anything, I just walked around and answered doubts or solved problems that people had. The students were very surprised to hear that I was just in the 10th standard, and since I was so close to them in age, they opened up to me quicker and didn't hesitate to ask for help. The students are not taught computers in school, but many people told me that they want to pursue computers in the future, or study it at college. 
Before I left, I was lucky enough to see one of the art therapy sessions conducted by Jayalakshmi, an employee at Sharana. This was part of a monthly women's meeting for the beneficiaries who took out a loan to start their own business. I had seen most of these people's faces on small pictures on my computer, so it was interesting to see them in person. Before the women came, we set out all the paints, paper and water on the floor, and lit an incense stick and a candle. There was also soothing music playing which really set the mood for the session. I was pleasantly surprised to see how much the women talked to each other – they were chatting merrily as they were walking in and sitting down, and even throughout the painting, they were talking amongst each other. After a short meditation, they were told to select a bead and a small flower from a plate and stick them on the paper – these represented themselves. Then, they were told to think about a specific person and paint for them. The resulting paintings were beautiful – people drew flowers, peacocks and other patterns – and by the end, I think they felt more free and unburdened. 
I am very fortunate to have interned here and I loved these 3 weeks – it has given me a lot of perspective and insight – and if I even helped their cause a little bit, I will be content. I am very, very grateful to everyone that works here – they were so welcoming and accepting, not to mention the fact that they devote so much of their time to helping people in need. I was sad when my time to leave Sharana came, but as the Director of Operations, Vandana Shah, said – "Once you leave Sharana, you're an ambassador," – and I most definitely will be.