-penned by Ms Jagriti Shankar
This report provides a preliminary review of the impact of COVID-19 pandemic on the beneficiaries of Sharana's Women Social Entrepreneurship Program. This program is being supported by Majany, Luxembourg. The situation is evolving every day, and the full impact will be known after a few weeks, or perhaps after a few months, so this current report is only focusing on the immediate impact on the women beneficiaries due to the lockdown. The women are poor and underprivileged, live in the slums in and around Pondicherry, and the project supported them in starting a small business of their own so they could earn a livelihood and create a dignified life for themselves and their children. For many of these women, this small business was their only source of income which has now got disrupted due to the pandemic. We have worked very closely with these women in last few months and deeply aware of their lives and struggles. They shared with us their stories of how they have been dealing with this unprecedented situation.
The information has been collected by the social workers over phone calls, a medium which has its own limitations, and not a perfect medium for communicating feelings or sensitive issues specially if the issue is as sensitive as domestic abuse or violence. Many beneficiaries have been connected with Sharana since long time under childrens' programs and they see Sharana as a safe place for them, still some women just do not like to disclose problems of their personal lives, and rather keep trying to handle them on their own with a hope that situation will improve. Respecting people's privacy, the report only looks at these women's lives from a gender lens and shares an overview of the gendered impact of the pandemic over their lives. The top most issues women are facing are economic shock, food insecurity, increased domestic violence, lack of sexual and reproductive health facilities, lack of recognition and support on mental health, unavailability of social networks and support system, etc. and each issue is important as it affects women's, their children and their families' lives.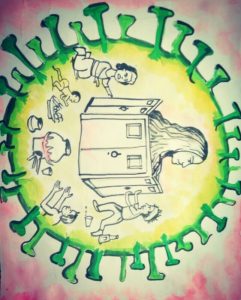 -Art Work by Manuel Theremond
Economic Challenges
Economic challenges during an outbreak pose a comparatively more serious threat to women's work and business activities, and the same has happened with the project's women beneficiaries. Most of these women work in informal and unorganized sector. They are daily wage earners and that means even a day of missed work puts them under financial stress, and here, the lockdown situation under current circumstances had prolonged for more than 6 weeks, which has raised the financial stress to an all-time high level.
From this week the markets are opening for a longer time and some business activities are starting to resume. But till last week under the regulations of complete lockdown, markets were closed, only sale of essential commodities, like vegetables, groceries etc. could operate for a limited time, and all business activities had to shut down at 2pm. Under these guidelines, all beneficiaries whose shops were situated in the market areas were completely shut down. Businesses that did not qualify under 'essentials', like flowers, tailors, foot wears, ironing, utilities, etc. were also completely closed. Women who sell processed food on roadside in pushcarts, were also off the roads due to the strict implementation of social distancing, and many have still not resumed the business.
The only small businesses that were operating were the vegetables and grocery shops in the streets. And although they were open, they faced various challenges like not being able to keep a full range of stock, reduced number of operating hours, and lack of cash flow because a lot of neighbours want to borrow food on credit as everyone is under the same situation of strained income.
For many the income had fallen down to zero. The women who were still able to work for a few hours a day, reported a sharp drop in the income and sometimes losses also. Earlier if they were earning about 500-700 rs. every day, under lockdown they were earning only about 100-150 rs. a day. Fruits and vegetable vendors had to incur extra losses because of the time constraint in selling the perishable goods. As the clock approached 2 pm, they were forced to sell the stock at a throw-away price, because if it didn't sell, they had to throw it out anyway. It is the peak of summer season and these small vendors do not have the luxury of having fridges or other storage facilities to keep the stock good till the next day.
Its not that only 'income' has got a hit, rather for these new women entrepreneurs their recently earned self-esteem and confidence has got a bigger hit.
Food & Nutrition
The most heart-breaking situation for a mother is when her children are hungry, and she is not able to give them food.
Kamla had started a petty shop on a pushcart with Sharana's loan in January this year, and it soon became the only stable income source for the family of 5. She lives in a small house with 3 children and husband. One child comes to Sharana's pre-school and 2 children go to government schools. All the children were eating their day meal either at school or at Sharana. She keeps asking when your Pre-School will open? Now with the schools closed, Sharana's pre-school closed, and the shop also closed, have put the family under a lot of financial stress, as mere managing 3 square meals for the children has become very difficult.
This is not the story of just one woman and her family, rather most of the families are in similar situations. They have reduced their food intake to only one or two meals a day. They cook once and manage with the left overs for the rest of the day, or manage on tea and biscuits. Staying on tea and biscuit is not ideal situation specially for children, as it can very soon make them malnourished, but under the current circumstances they do not seem to have other options.
Many beneficiaries shared their inability to manage food, as well as the resultant frustration. One woman said, "My child doesn't want to eat the same plain rice every day". Children being children, are demanding variety in food like, vegetables, cereals, fruits, and specially fish, the nutrition which they were having earlier. Fish is a staple food for many of these families, which they are not able to afford now due to lack of income. On one hand this lack of food creates frustration in children, as well as in parents, on the other hand it is worrisome that it may lead to nutritional deficiency in children as well as in adults. In one particular case, where a child already has a vitamin deficiency and the doctor had suggested to feed him more vegetables and fruits, parents are unable to provide so.
One woman who is a single mother, who was running a food stall, is now unable to provide food to her son. She has become totally dependent on her relatives for the food. She takes the son to relative's house, they eat there and come back to their home.  She said, "Sometimes I feel guilty for eating in my relative's house. It is the worst situation of my life. I am all the time praying to God to end this situation now."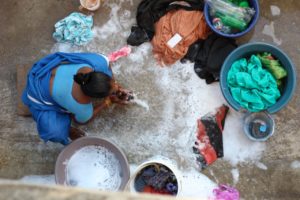 Women's Physical and Mental Health
How corona has impacted women's physical and mental health is an issue that deserves a thorough research and intervention, when time and situation will permit. Currently what we know through phone calls with women is that, more than physical, it is the mental health that has been taking a heavy toll on women.
Lakshmi shared, "After watching so many news about infections and deaths due to Corona virus, I got too much worried. Every day the number of deaths were increasing. I was not able to go out, or talk to anyone about it. I got depressed and was not able to sleep at night. Then luckily, I watched one inspirational speech in a TV program by some specialist, and only after that I felt little better".
The case of Lakshmi is not the only case, and it clearly shows that women's mental health is getting affected with the stress of lockdown, and due to constant flow of negative news, but also the fact that there isnt any recognition of the issue, nor is there any plan to address it. There is no psychological help available, women do not know whom to reach out and seek help, and they are unable to manage the stress by themselves.
The role of media is also very important here. How media present the news, how the analysis is done, and whether the aim is only to sensationalize and create fear, or are there equal efforts to give information on preventions and cure, and being sensitive to the vulnerable sections of the society? Media, specially Television channels, need to take this responsibility and understand that there is one section of the society, the underprivileged – low educated – less resourceful section, which is totally dependent on them for the information, as they do not have enough resources or skills to use internet, visit multiple sites, call experts, do research and figure out the truth of the matter
For the physical health, among our beneficiaries, women in the need of special care like pregnant women, are having a tough time. As per government's guidelines, apart from Coronavirus infected cases, government hospitals can only attend to emergency cases. In such scenarios, the regular check-ups of pregnant women, meeting doctors to clarify their doubts and worries is not "emergency" enough for government hospitals. In some cases, women had to visit private doctors and pay a higher fee for the same. For them,this is a very high expense and some are even taking loans for this purpose.
Plights of Single Women
Among the underprivileged, it is the 'single mothers' who are in the most deprived situation. One reason is that they have limited sources of income, and also because they lack the support system and have to manage everything on their own. More so, if there are young children to feed, it increases their vulnerability multiple times.
One widow with 2 young sons had recently started a roadside food stall. After the business was closed, she managed with the savings for a few days, but couldn't manage for long. So, she has sent her elder son to stay with a relative, and kept the younger son with her. Now her sister is helping her with food. Every day she takes the younger son to the sister's house in the morning, they both eat there and return back by afternoon. She hasn't seen her elder son for days. Not only the income has disrupted, families have separated from each other. Children have separated from mothers, and the situation does not seem to ease down sooner.
Women migrant workers remain to be more vulnerable than ever during the pandemic situation. Women who migrate from other states in search of good life, who contribute their sweat in the development of the state, the women who are below poverty line remain in desperate situation. Neither they can go back to their native places, nor they are a priority for the host government. Oftentimes they left out from the government relief system due to the lack of official documents or identity proofs. There are women under this project who had the similar issues, although they were covered under Sharana's relief support but this is one of the important issues which needs to be addressed by the authorities.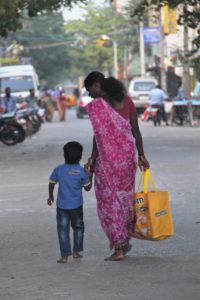 Increasing Debt
One of the major difficulties for women at this crucial time, and which often goes unreported is the number of loans that they keep on taking in order to buy food and other urgent necessities for the family. The loans are taken from local provision stores, friends, relatives, or from pawnbrokers on a high interest rate. Taking small loans is an intrinsic part of the lives of the poor, for instance taking a loan in the morning from the provision store and returning it back in the evening after earning their daily wage. But in the current situation the loans are piling up, but they have no clue on how and when they will be in a position to pay it back.
Many women said that they have taken loans from local pawnbrokers keeping their jewellery as collateral. Even when the situation gets normal, it will take a long time to repay back these loans. And the more time it will take to return the loan the more interest will get accrued, and the monthly interest rate is as high as 10 to 15 percent. In many cases these women will probably never be able to retrieve back their gold, which is their only saving.
Domestic Violence
During times of crisis, gender inequalities often get worse, and interpersonal violence increases. Many past emergencies have revealed significant increases in violence against women during such events, and this time also all over the world the domestic violence cases have peaked up, including in India.
There is no work, no money, and no visible end to the situation, on top of it the alcoholics are not getting alcohol, and the result is increased frustration levels in men. Many women reported increased incidents of domestic violence by husbands, primarily due to frustration of lack of money and unavailability of alcohol.
Kumari shared her story, "I'm staying with my mother during the day and go back to my home only at night, because my husband is under stress for losing his job. One day he became so mad that he started shouting and hitting me and children. He also broke the television. We all got very upset. I don't want children to stay in such hostile environment. Now I make food for him in the morning, and then take my children and go to my mother's house. We spend the day there and come back at night. Children also get some entertainment by watching TV at mother's house. And I feel safe there."
At the same time few women confided in us saying that they were happy that their husbands were not get alcohol. One woman said, "There is no means to get alcohol, so my husband is staying sober and spending good time with children, and children and I are liking it. And we hope that during lockdown he gets rid of this bad habit."
The number of increased cases were not known for the obvious reasons, but from Sharana we have been keeping a watch on the situation and are ready to alert the authorities had we come to know of any cases.
Relief by Authorities
One small relief in the midst of the lockdown was the 2000 rs. allowance money provided by the government. However, most of the beneficiaries reported that the money was not enough and as soon as the money came it was spent in buying food, or in repaying part of the loans that they have been taking since the beginning of the lockdown. The support was given once and there's no further announcement whether more money will be given to compensate the loss of income or not?
Other than this single cash relief, under the PM Garib Kalyan Anna Yojana, the central government is distributing 5 kg rice per person and 1 kg of pulses per household to Below Poverty Line family card holders. The relief will be provided for 3 months. In some areas, the area MLAs have also distributed ration. In some areas, the area MLAs have also distributed ration; however the amount distributed in different areas varied, and these small supports are not enough to keep people fed for a long period of time, and the authorities need to come forward with further solutions in the coming months.
Impact on Men
For men also, the situation is not very different in terms of loss of work and income. Similar to women, their work has also stopped or reduced to a minimum due to the lockdown. Most of these husbands of our beneficiaries are into works related to construction, mason, load man, auto driver, etc. Among them only load men could work at the wholesale vegetable markets for 2-3 hours during early mornings, but for the rest of them the businesses are shut, they are staying at home and bearing with the situation and dependent on the relief providing by NGOs or government.
Other Stressors
Apart from the social and economic factors, there are intangible factors that have been contributing to the stress for women, e.g lack of physical space, lack of mental peace, no recreational activity and unable to vent out or release stress, worries about children's education and missed school days, etc.
All of these families are living in slums in very small huts or overcrowded rooms, with no proper ventilation or windows etc. A space which is barely enough for one person, is shared by 4 to 6 family members.  One woman said, "because there is no space inside the house, we sit outside the house for the whole day, and go inside the one room house to only sleep at night". For the women this could also results in loss of privacy, dignity, and increased risk of abuse. She added, "I don't like to sit outside the whole day but it is okay because my family is there with me, and other women are also sitting outside their homes, we all are in same situation".
One major worry for the women are the missed school days for children. Not having this opportunity to go to school these women understand the value of education for their children. Many women said that it is good to have children at home and spend time together which otherwise they are not able to, because everyone is busy in their work. But they are worried about children missing school, glued to watching TV all day long, and not learning anything.
Women's Resilience
The pandemic situation is also proving a very important quality of women, their resilience. Under these extremely difficult situation, these women are not sitting idle, rather they are constantly working. They are managing all the housework, cleaning, cooking, arranging provisions, giving emotional and moral support to the family, and at the same time they are trying out new ideas and opportunities to work and earn some income, whether big or small. One beneficiary borrowed money from a neighbour to buy milk and started to make yogurt at home, now she's selling yogurt in the neighbourhood, and earning an extra 20 Rs. a day. Though it is a very small amount nevertheless they do not want to leave any opportunity of earning.
Another beneficiary has started to sell idlis from home, because due to lock down she couldn't push her iron cart from village to village. She shared, "The loan Sharana had given me, made me survive this situation. With the income of ironing business, I started the idli shop and now I'm able to earn. This really helped us, otherwise we could be begging for food and money in our own village."
Post-lockdown Unproportionate Risks for Women
There is a long list of issues that have surfaced. The issues were there earlier also, but the intensity of some critical issues has multiplied during the pandemic lockdown.  People have come under unprecedented circumstances and do not know how to deal with it. Till a few days ago these same women used to happily tell us how well they are managing their newly established businesses, and now, all of a sudden, their life has come to a halt. These women are the frontline warriors fighting not only the virus of Covid -19, but also the viruses of abject poverty and the adversities of life.
However, eventually the lockdown will end and the life will come back to normal, but it will bring a lot of challenges too. The experts are speculating that we could see a huge surge in the infections as soon as the movement of people and business activities will resume, and which also indicates that the onus of following preventive safety measures will shift to individuals to a major extent. But the living and working conditions of these women are such that it is very difficult to follow the preventive measures like social distancing, or washing hands at regular interval, or home quarantining in cases of suspected infections.
We have to ask ourselves, are we prepared for the challenges that these poor vulnerable women are about to face? If the rate of infections spurt, will we be able to protect the women and their families who live in the overcrowded slums and share the common spaces for even the basics like toilets, and water taps, etc. Could we put these single mothers to quarantine who have dependent children to feed? In the current scenario, the best way to deal with the situation would be that the authorities put on a gender lens while preparing an action plan for handling the post lockdown situation, and make an inclusive plan keeping poor women's socio-economic needs and priorities at the center of it.
*Names of the beneficiaries have been changed