Here is a summary of our distribution at the end of day 2.
| | |
| --- | --- |
| Number of families supported | 355 of 1000 (supported families) |
| Provision details | 10 Kgs rice, 1 Kg dal, 1 Kg rava, 0.5 Kg sugar |
| Number of Distribution Days | 3 to 4 days |
| BPL rations card holders: | All |
| Percentage of daily wage earners | All |
| Cost per kit | 500 INR |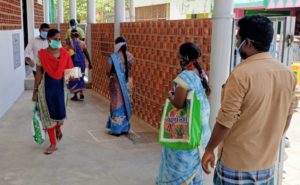 Do watch an exclusive interview of our Founder Mrs Rajkala, speaking with Mr Pradeep Bhandari on Jan Ki Baat last evening on the below link:
https://twitter.com/pradip103/status/1251557144261992448?s=19
We are happy that through this our efforts got a national platform for voicing our efforts and concerns and requirements for funds.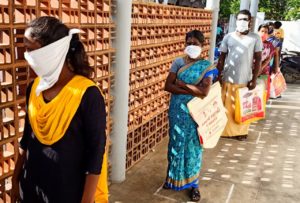 For those who may not know him, Pradeep Bhandari is a psephologist, a political expert and a reporter on the field who has changed fundamentally the technique of ground opinions on political debates.  He is also the Founder, Editor and CEO of Jan Ki Baat.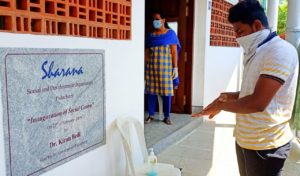 We plan to continue this kind of provision support until the lockdown continues; realising that even when it is lifted, these families will still face the cascading effect of this Pandemic. Other support such as awareness-raising and community-led leadership will have to follow for a long time.
We appeal to our follow countrymen to contribute in any way possible to the work done by Sharana on the field, donate, fund-raise, or simply share widely.
| | |
| --- | --- |
| One Kit | 500 |
| Five Kits | 2500 |
| Ten Kits | 5000 |
Click here to make your contribution
For more information on Sharana and our models of intervention visit our page at Sharana.