Parameshwari has three children to feed, and an alcoholic unsupportive husband with a penchant for gambling to handle. 
Five years ago, on her own initiative she started to prepare some boiled lentil snacks which her husband Nagaraj used to sell in the tennis courts where he worked. Nagaraj quit that job and took up another at a liquor shop. It was a convenient arrangement not only for his addiction but also for his gambling habits.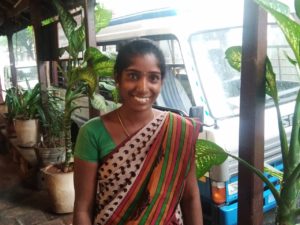 photo taken in January 2019 (pre-covid)
Sharana came to know of Parameshwari's situation 5 years back when two of her children were enrolled in our crèche programme. Given her own initiative to improve her condition it was decided that she be given a loan under our Social Entrepreneurship Programme in November 2018 to finance a proper cart stall and other amenities such as a gas stove and vessels so she could run her own snacks shop near the old bus stand. She made brisk business very quickly, earning up to 600 to 700 rupees a day. A healthy departure from her previous venture.
photo taken in November 2018 (pre-covid)
But, no sooner had we concluded that this was a wonderful success story, we learnt that Nagaraj had refused to support Parameshwari in this venture. He categorically refused neither to keep the children after school nor allow her to run the business. When our social workers went to speak to Nagaraj, he was too drunk to interact, but on returning the next day they learnt that he was adamant and would not change his mind. To add to her woes, Parameshwari fell sick and was forced to shut the business to attend to her health.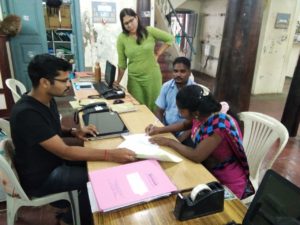 photo taken in November 2018 (pre-covid)
Since the month of June, after recuperating, Parameshwari has been working as a housemaid on a salary of 6000 rupees a month. Her husband lost his job during the lockdown and relocated to Chennai where he works as a painter. He sends back home a pittance.
Parameshwari is keen to restart her business but can't. She has absolutely no support system. Hers is a story that could have turned out vastly different. Her stall would have made brisk business with the unlock measures in place. But Parameshwari toils as a house maid and rents out her cart for 25 rupees a day knowing well that life could have been vastly easier if she had only got the support.
-penned by Mrs. Alo Pal, board member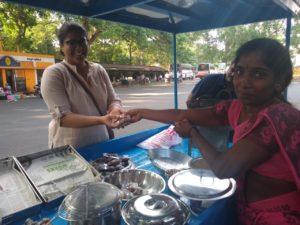 photo taken in November 2018 (pre-covid)