Ten years back Lakshmi and her husband left their first born with relatives in Andhra Pradesh and migrated to Pondicherry in search of work. In quick succession they had three more children, and on the birth of the last child, a baby boy, Lakshmi's husband deserted her. This was five years ago.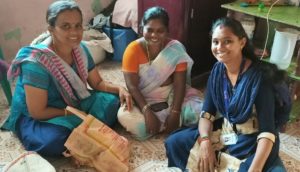 photo taken in January 2020 (pre-covid)
Unskilled, left with three young mouths to feed, Lakshmi decided to walk and sell boiled Chana on the beach road to passers-by to earn a living. Sharana came to know of her and enrolled her daughter, who is hearing impaired, in a school and even got her a hearing aid under a govt scheme. When this daughter failed her 10th exam she didn't want to resume school and helped her mother run the shop and has moved back home with her. When Sharana learnt of her initiative to sell snacks on the beach to earn a living it was decided that she was the right candidate for a loan under our Social Entrepreneurship Programme so she could enhance her business with a proper gas connection and stove and increase variety.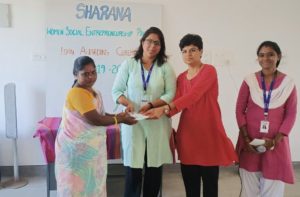 photo taken in January 2020 (pre-covid)
And then the lockdown was announced. With no means of earning a living and three children to manage Lakshmi used the money to go back to her village in Andhra. Unfortunately her daughter fell sick there and needed hospitalisation and all that expense was covered by Sharana's business loan.
In the month of June Lakshmi returned to Pondicherry with her children and survived off provisions provided by the govt and Sharana. This carried on from June through August. In August Lakshmi tried to earn some money selling fish but profit margins were very low. To add to her woes her two older children, restless in the home idle all day started to leave the house in the dead of the night roaming the streets. Sharana urged her to call Childline and the two children now live in a hostel.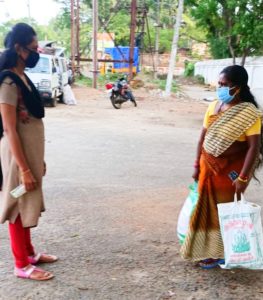 photo taken in July 2020
Today Sharana is actively thinking of giving her a loan top up to restart her business. We are also engaged in processing her papers and getting her documentation work in line so as to enable her to get a regular gas connection. In a week she will be all set to restart her business with an induction stove. We wish her all the best.
In Sharana we gage success not by the timely repayment of loans or a business plan well chosen that clicks. Lakshmi willing to work hard to earn an honest living despite the odds, is our success.
-penned by Mrs. Alo Pal, board member