Kozhukattai is a traditional Tamil preparation, a steamed rice dumpling with stuffing. A Tamil modak if you will.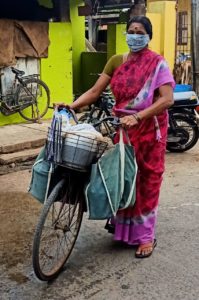 Maanvizhi took a loan from Sharana's Social Entrepreneurship Programme to enhance her business that made traditional Tamil eateries. She makes Kozhukattai with Sago and Ragi too in addition to white channa sundal"boiled and tempered chickpeas" and samosas. After making them she used to go door to door in selling the products.
Maanvizhi lives in an area that was among the first to see a significant spike in Covid in the early part of the onset of the wave in Pondicherry. Containment zones were extensive and a lot of fear mongering meant that people stopped buying her freshly made eateries fearing they would catch the virus.
photo taken in August 2020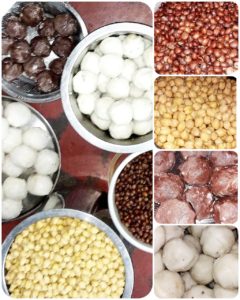 Fortunately her daughter, a primary school teacher in a private school continued to work and bring in a salary, not so for her husband who is an auto rickshaw driver. Her son, an excellent student and a beneficiary of our Back to School programme, has completed his B Com. and is preparing to enrol in an M Com. course and therefore wasn't an earning member either.
Given the circumstances Maanvizhi did not abandon her business nor innovate with other products, what she did instead was to open a stall outside her house and thus instead of getting shunned selling door to door she catered to customers coming to her shop on their own accord. Sales fell sharply, but it was better than no sales at all. Interestingly, with children staying home for longer periods parents began to purchase the healthy snacks she made.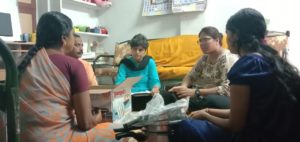 The festive season has coincided with "unlock" measures and her sales have picked up. She recently catered for a baby shower ceremony in her neighbourhood. Here's hoping her business gets better in the weeks to come.
-penned by Mrs. Alo Pal, board member.
photo taken in January 2020- pre-covid