The petty shop round the corner, especially in these days where one would prefer to avoid crowded markets are a boon to neighbourhoods.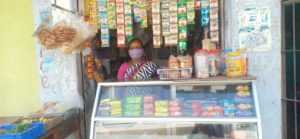 Maybe it is a good time to pause and be grateful to the shop owners who venture into the wholesale markets no matter how menacing the "curve". Sumathi, of Solai Nagar is one such who took this risk for months and struggled with sluggish business in the reduced working hours of the lockdown.
Drastic change of circumstance, a steep fall in income calls for urgent innovation and Sumathi ventured in to making fresh idli batter and keep this hygienically prepared perishable yet regularly consumed item in her shop.  And fortunately the sales picked up. It is interesting to note that the govt has made a free distribution of grinders to all households under a certain eligibility criteria. Might be worth a study for later as to why her clientele preferred buying the batter from her shop rather than make it themselves in their homes, despite an overall drop in incomes.
During the lockdown her older daughter, a beneficiary of our Back to School programme since she was twelve years old, has been pursuing her BSc Nursing classes online. Speaks volumes of the nature of Sharana's empowerment strategy in intervention that Sumathi and her husband paid for the education of their younger child, their son, who is a diploma holder but currently unemployed. With the help of his mother he has since three weeks opened a panipuri shop in the evenings to contribute to the family income.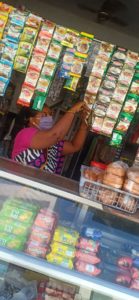 Sumathi's husband is an auto rickshaw driver and much like drivers featured in our ongoing series, he gets precious little business with no tourism and shut schools.
This story of resilience has taught us much, including unfortunately the fact that two of our women with petty shops had to innovate as the wholesale shops they procured from had hiked their prices to MRP in the lockdown, while Sumathi scouted the markets and fortunately found a supplier that didn't do that. On the ground when economic activity halts the test of honesty can be overpowering. These are unprecedented times; our lens must seek to look for the awkward best and the positive that emerges from these practices and circumstances.
-penned by Mrs. Alo Pal, board member.
both photos taken in July 2020