One day, out of the blue, I received a message from Prakash, a social worker at Sharana.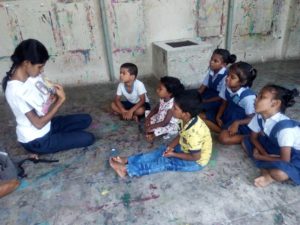 When I called him the next day, he told me that they were planning to start storytelling sessions for the children. He added that they were having limited funds and would like to try running the program for a few months. I was thrilled to hear this and I jumped at the opportunity. This was the most beautiful thing that happened to me around that time. After a very long period, I got an opportunity to tell stories to children again. What I loved most and admired was that when most private schools were not open to fit creative programs in their curriculum, here was an NGO that was willing to experiment a short-term funded program. To me, this was fantastic.
So, we began with two sessions per week – one for 4 to 6-year-old children at the preschool and the other for 6 to 9-year-old children who come on Saturdays for various activities. It has been more than eight months now, and still the program goes on regularly.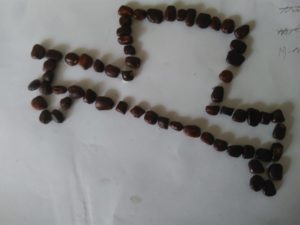 I focus on choosing stories that are inclusive and challenge stereotypes. I also love stories that are visually rich and offer a different perspective on the form and content of a book. We have explored stories about family, culture, abilities, appearance, emotions, gender identity/norms, people/work, friendship, environment and more. I have been using books from publishers such as Tulika, Tara, Eklavya, Karadi Tales, Pratham, Young Zubaan and தும்பி (Thumbi). I do not follow a particular method of teaching. Rather, there is a flexible structure that encourages different ways of thinking.
So what happens in a session?
A typical session begins with the narration of the story, when children share their thoughts and experiences related to it. Later they engage in activities that are centered around the story. These activities vary depending on the story and mostly include drawing, speaking, collage, role play, learning key vocabulary through actions, etc. In this article, I describe the discussions and activities that happen in a session using a story.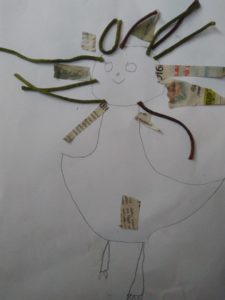 A Visit to the Bhil Carnival
It is a story about two children visiting the annual carnival in their village. It is a pop-up book that uses features of a map to present a carnival.
Most children could relate with the temple festivals and spoke about the things they see in a festival.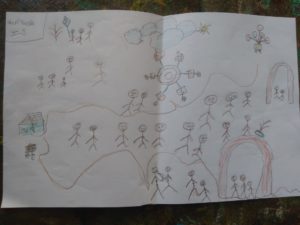 'Idols decorated with flowers'
'Giant wheel..'
'Toy shops, sweet shops, shops selling kitchen kits..'
'Food offered at the festival..'
'We travel in a van to attend the church festival' – Yogesh
'We travel in our father's vehicle (to a Muslim religious festival), women cook in the festival, there are toy shops, there is a flower decoration, they offer food…' – Nazreen
'People walk on fire…' – Keerthana
'They dress up as gods, sacrifice goats,..' – Vishal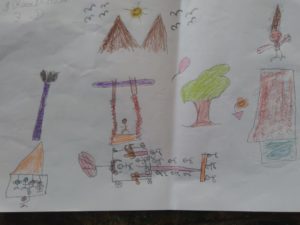 After this initial discussion, I asked them, 'How do we open a book usually?'. The children did the action of opening a book. I showed them the book and briefly spoke about the design and form of the book. They were excited to look at the illustrations and explore the various things happening in the carnival.
Later I asked the children to draw two or three things they would buy or do at the fair. I encourage them to express their own ideas rather than produce a neat picture. Then, I wrote 'I want to buy —–' on the board. I asked each child 'What do you want to buy?', filled their answer in the blank and made them say the line each time.
Eg:  I want to buy ice cream
       I want to buy toys
       I want to buy balloons
I gradually extended to 'How many?' and 'What colours?'. When they found the questions difficult in english, I asked in tamil and helped them answer in english. Most of them spoke well, while few children seemed to need more time or support.
People at Sharana
The teachers and social workers have been immensely supportive throughout. Social workers Prakash and Vadivu have been coordinating the program well, amidst their other responsibilities. The teachers, Rany Miss and Jaya Miss (that is how the children call them) provide all the materials required for the session and also participate along with the children.
Sometimes when I wonder why I am having a different group of children today, Rany Miss says, 'because they could get a chance too..'. I felt that is simply amazing of a teacher to think that way. It made me realize that I should figure out better ways of managing large classes rather than work with a small group that excludes many children. In yet another class I learnt from her that closed questions sometimes work better with children than open questions. Jaya Miss always loves learning new words in english. Once I asked the children to write some words they learnt from the story. She started writing along with the children and in fact wrote a lot of words.
Another thing I love about Sharana is that they offer food to children everyday. Whenever I go for my sessions, Prakash always asks me to have lunch. Rany Miss and Ranjini (Ganga) make sure that I eat my evening snack. The environment at Sharana has always been simple and warm for me. I have always felt happy and free. Sometimes when I go to some fancy private schools looking for opportunities, I start wondering, 'Do I really want to work here? Will I enjoy my work? Will people be open?'. I have never had such thoughts at Sharana.
During a meeting, Vandana, COO at Sharana told me that they believe stories are important. This strengthened my belief in working with people who have mutual interests and values. It simply allows to figure out all kinds of possibilities. After a session recently, Rajkala, Founder of Sharana asked me if I could come every day. It took a few seconds for me to make sense of what she was saying, and I was over the moon. I hope we will be able to take the program further.
A young girl came to me after the last session and shared enthusiastically that she spoke only here. She typically does not answer in her classes at school. I asked her why and she said because of fear. Her comments meant a lot to me. I always think it is important for a space to enable an individual to share their opinions fearlessly. And I am glad it is possible at Sharana.