Social workers at Sharana met Kanagavalli 3 years ago during an outreach in the Vanrapet Slum of Pondicherry.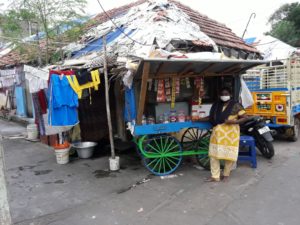 photo taken in August 2020
At the time she had three small children, she worked as a housemaid and her husband worked as an electrician. Her children were enrolled into our crèche program and all was ok till she fell and broke her right arm at work and had to have an extended recovery and convalescence. When Sharana approached her as a candidate for our Social Entrepreneurship Programme she was ready with a business plan. Hers was to be a Petty Shop on a cart on the main road of her slum opposite Murugan temple, where after a few days of business in January 2020 she added lemonade and other cold drinks to her cart.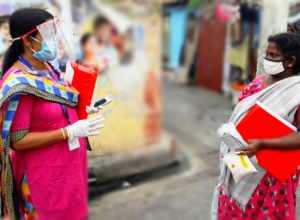 photo taken in July 2020
Vanrapet is a slum right next to the railway tracks in Pondicherry and Kanagavalli's principal customers were railway passengers and school going children. As you're all aware, neither of these categories of service and economic activity has opened yet so not only did business halt but she's yet to regain her regular customers despite the "unlock" measures.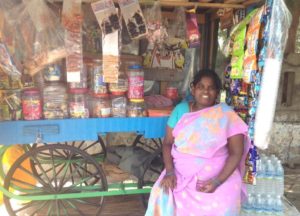 photo taken in March 2020- pre-covid
But, as has been a recurring experience with Sharana, once autonomous the desire to be in control of one's income is as much a responsibility as a necessity. Kanagavalli opened the cart shop within the slum just outside her tiny one bed room place. As with our previous story, purchase of wholesale produce wasn't profitable as the wholesale market was selling their goods at MRP rates.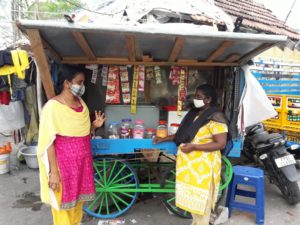 photo taken in August 2020
It is interesting to note that two of our beneficiaries have thus managed to bring food on the table these months by selling produce that were allowed an uninterrupted service right through this period: dairy and poultry. So Kanagavalli eked out a living selling milk and eggs, they also added dry fish to their list. Today she's back to procuring goods from the whole sale market though sales within the slum has picked up but yet to reach pre Covid numbers.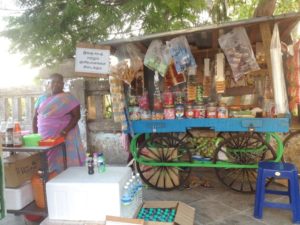 photo taken in February 2020- pre-covid
It is important to point out that when income stops or is drastically reduced a slum like Vanrapet makes personal hygiene prohibitively expensive. During the first three months of lockdown she managed to earn barely 100 rupees a day and a 5 rupees rate for pay and use toilets became a significant drain on the finances for a family of 6. Vanrapet has no facilities and even today if there is an emergency at night, the railway tracks are the default open air toilets…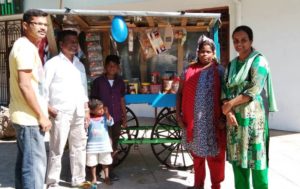 -penned by Mrs. Alo Pal, board member.