With the "Unlock" measures just announced Sarita is finally scheduling trips to Chidambaram and Chennai to stock up on sarees to resume her business of selling them to her customers from her home on a monthly instalment basis. Since the lockdown she has struggled to feed her family.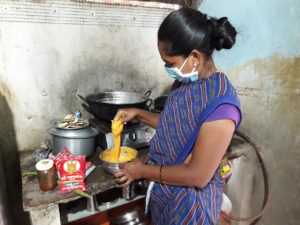 photo taken in August 2020
Her husband is a fisherman but doesn't own his boat and despite easing of measures, the limited number of fisherman per boat implies that he doesn't go out to sea more than twice a week. He has a drinking habit and is generally not very supportive. Her son, 23, has studied till the 10th but has been utterly unproductive. Her daughter, 20, lost her job in the imitation jewellery store she worked pre Covid. From March through May Sarita ran the house depleting her savings.
With Tamil Nadu Covid positive numbers remaining obstinately at No.2 and Pondicherry beginning to look bad in June it was unlikely that Sarita would resume her saree business soon and she knew she had to do something quite different and very soon. Throughout the period every morning she had been going to the wholesale fish market to sell fish in her locality, but that wasn't enough.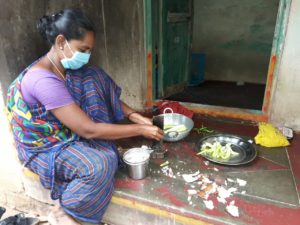 photo taken in August 2020
Despite restricted timings she ventured into opening a snack shop in an open space near her house in Solai Nagar. Her daughter helped her prepare the bondas, vadas and the bhajjis. Luckily business picked up. It is important to note that a similar business pre Covid in another slum came to a complete halt for another beneficiary we've covered in this series. Within the economically backward zones marginally better levels of income and living standard seems makes the same business relatively viable.
photo taken in August 2020
An interesting hitch she faced however was when family and friends started to flock her stall but consumed on credit. This lead to disharmony within her family as her husband wanted her to shut shop, without of course having any alternative plan. That issue sorted and a clear distinction made between business and family, today Sarita continues with the fish sale in the morning, hopes to resume the saree business soon, and run the snack shop in the evenings. This additional activity and source of income she hopes to maintain even when things get back to normal. Her willingness to work and innovate is an inspiration.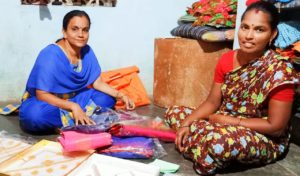 photo taken in February 2020- pre-covid
-penned by Mrs. Alo Pal, board member.