Vandrapet is a slum area behind the Pondicherry railway station where the Seeds of Change program has been conducting daily sessions for the past two years.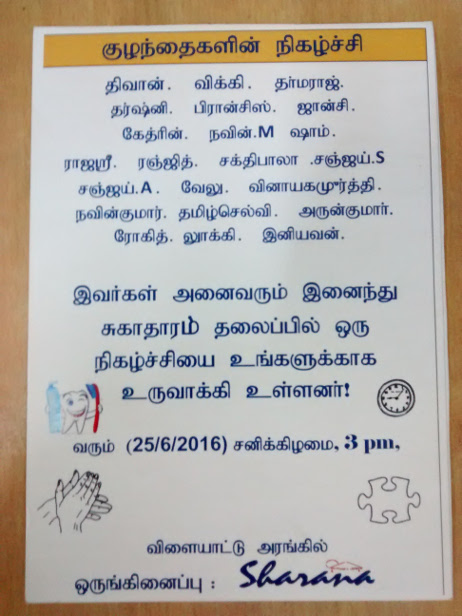 The enthusiasm of the children and their unoccupied evenings allows the Seeds of Change program to conduct daily sessions in the Vandrapet slum. While the children at schools are only just beginning to play games on the topic of personal hygiene, the children from this slum have completed this topic cycle; having enjoyed 'Playda' games(that aim to raise awareness) followed by a variety of 'Deepening Games' that help understand the problems and solutions better.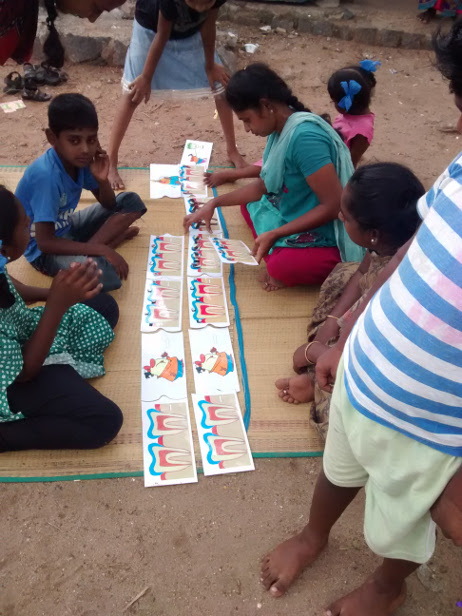 As we expected, the children wanted to become awareness messengers and share their knowledge with their families and friends. We suggested they use the 'Deepening Games' as medium to share their awareness with their community. So on the cloudy Saturday afternoon of 25th June we organized a community event.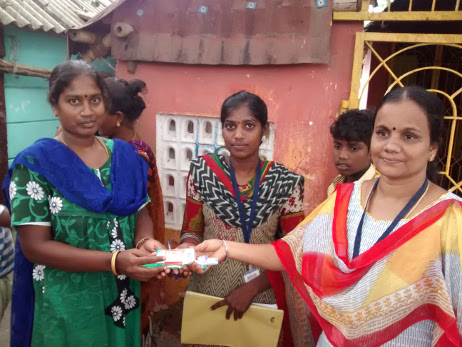 The previous day, our awareness messengers ran through the maze-like alleys of the slum, distributing flyers in their community: "come learn about hygienic practices for better health!" On the next day there was a healthy turnout: mothers with babes in their arms, fathers taking a break from their afternoon petanque sessions, siblings too young or too old to play Playda games, and even a few grandmothers. They were all invited to play a collection of different 'Deepening Games'.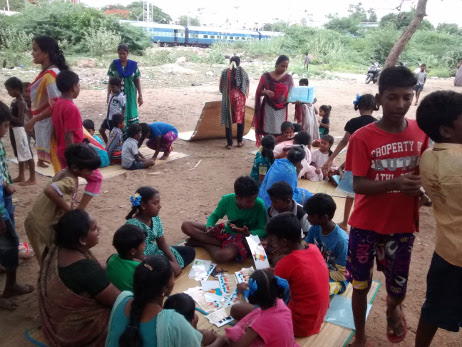 Eager children buzzed around exchanging games between groups and the Seeds of Change team had only to watch this dissemination of knowledge through games.
Once the groups had played all the games, parents were given toothbrushes and toothpaste depending on the number of members in each family. Prakash's presence (Gayatri house social worker) helped in distributing these in a fair and equitable manner since he works closely with these families as part of the Gayatri House programs. A total of 150 brushes and 42 tubes of paste were distributed.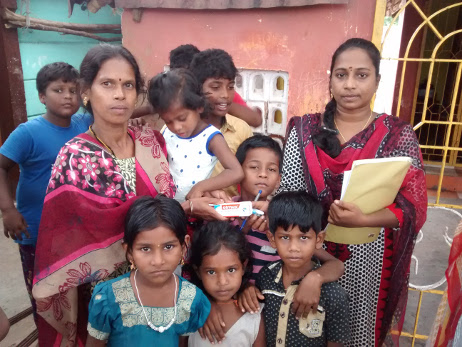 With this event, the seeds of change have been planted: children have had an opportunity to play, they have been empowered with knowledge, they have shared this knowledge with the community and a concrete outcome of brushing daily has been made possible.