Penned by Diane D'Haultfoeuille, Intern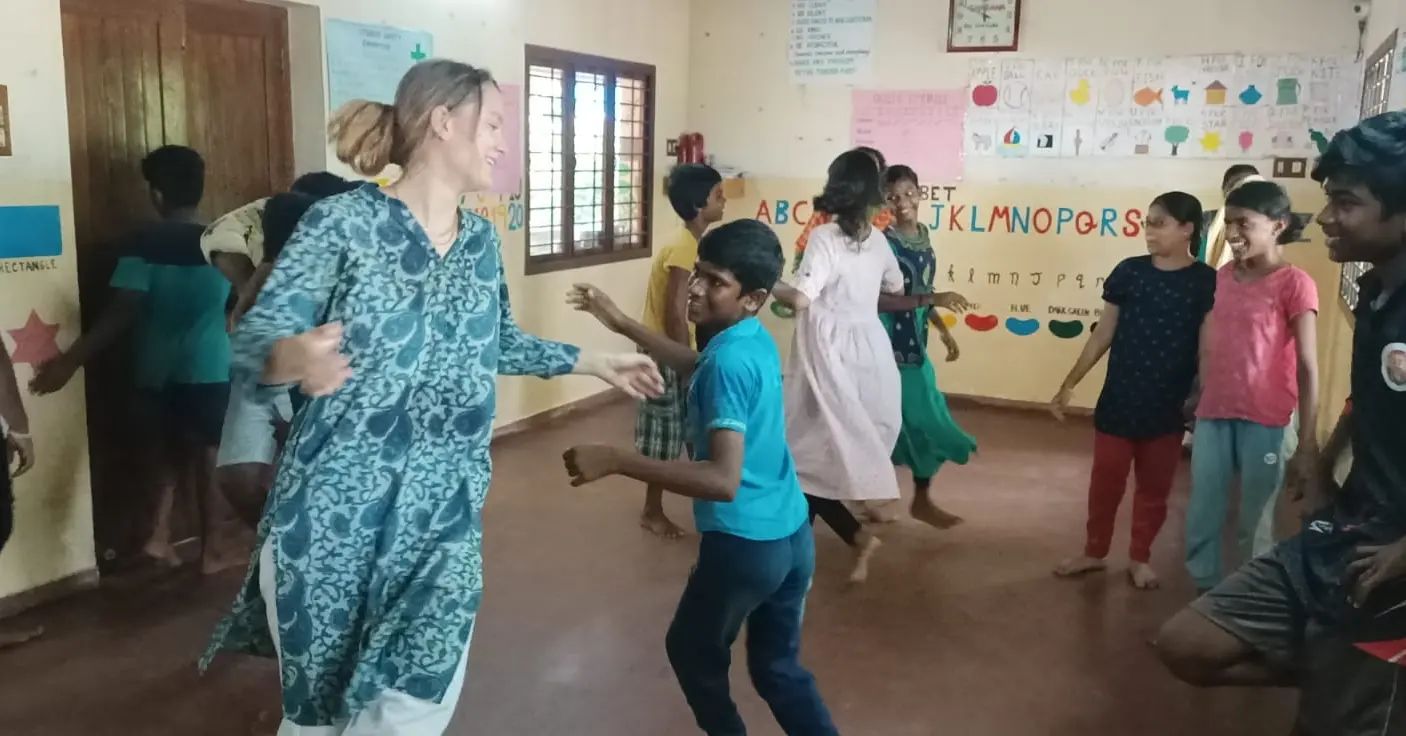 I joined Sharana at the end of March 2023 for a three-and-a-half month internship. I had taken a gap year between my studies in medical engineering in order to step out of my comfort zone and to translate my convictions and values into meaningful actions: the sense of sharing, of self-giving, of opening up to others, as well as my commitment as a woman.  
When I heard about Sharana, I became convinced that it would be the right place for me to volunteer, as the organization is dedicated to promoting access to education and empowering women and chidren. However, my experience in Sharana allowed me to gain a better understanding of its operational methods, and I was truly struck by its significant local impact. The organization was created by a  strong, ambitious, and determined woman, whom I was lucky to know more personally and seems to make a point of hiring mostly individuals who possessed a good understanding of the field and want to engage for a long term. Additionally, the NGO consistently  strives to enhance and broaden its efforts by carefully balancing its values and needs, and by seeking the most suitable and meaningful approaches to achieve its objectives. 
When I started my work, I expected that I would mostly use the knowledge that I had acquired during my studies (i.e related to computer science). Of course, I needed it to help the Digital Lab instructors or to teach Lakshmi, Health Worker, how to use a computer and Microsoft Office, but I was quite surprised to find that the organisation showed a greater interest in my other skills and extracurricular hobbies. This unexpected focus not only encouraged me to explore new facets of my personality but also provided me with the opportunity to share what I am truly passionate about. 
I had practiced dance for more than 10 years in France, but stopped it when I started my engineering studies. During the Summer Camp, I conducted a "Western dance" class, in which I taught the children a variety of movements, inspired by ballet, modern and contemporary dance, as well as salsa and ballroom dance. Since I had not danced for a long time and felt quite shy about dancing in front of others, I was not really confident about leading these classes.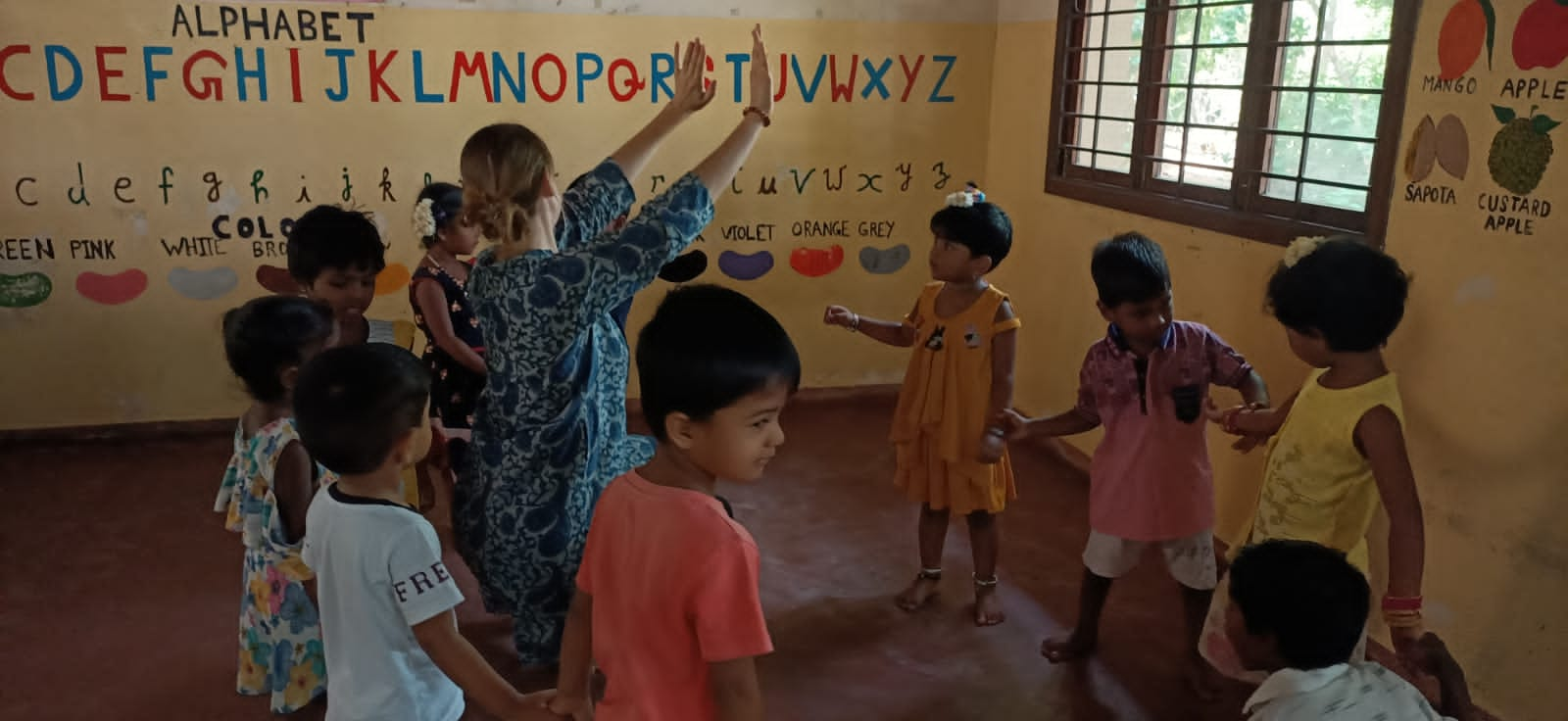 Nevertheless, seeing the students having fun, smiling, enjoying themselves and getting involved in the class brought me so much joy. I was very much looking forward this activity every day, even on tougher days when I was feeling tired or a little blue, because I knew it would help me to overcome those feelings. As I gradually built up a relationship of trust with the children, we created a safe space where they could freely express themselves and explore the sensations of their bodies.  
For these sessions, I was helped by Romila, another volunteer and Dance Movement Therapy facilitator-in-training at Sharana, whom I was able to meet more fully and thus built a great friendship. We even organised a team building session for the staff who also showed great enthusiasm during the dancing part.  
Furthermore, the team managers included me in each program and encouraged me to give support in all of them, which allowed me have an overall vision of Sharana's activities. One of my responsibilities included conducting Spoken English  classes in the Language Lab for students between 14 and 18 years old, in which we covered a few topics of English grammar and vocabulary, and played educational games to improve their speaking skills.  
I also supported Harshitha for our collaboration project with the French Consulate. We were welcoming five children from the French School once a week. We organized collective games or art sessions with the aim of helping these children enjoy themselves and improving their French language skills. These sessions were facilitated mostly by the  employees and volunteers of the NGO who were fluent in French. It was quite a  challenge for us to find the effective way to engage with these children and to build a meaningful and adaptive plan that could facilitate their personal development. This meant having many discussions about our observations, perspectives, as well as more general subjects such as psychology and therapy.
As I had become a Climask Fresk facilitator before my arrival at Sharana, I facilitated along with Harshita Climate Fresk sessions to  help the children understand the reasons and consequences of climate change. I appreciated the fact that Sharana makes efforts to highlight environmental issues, through these sessions but also through Seed of Change program's awareness games. It gives the children some simple clues to understand the importance of their daily actions and how they could possibly change them to have a better impact.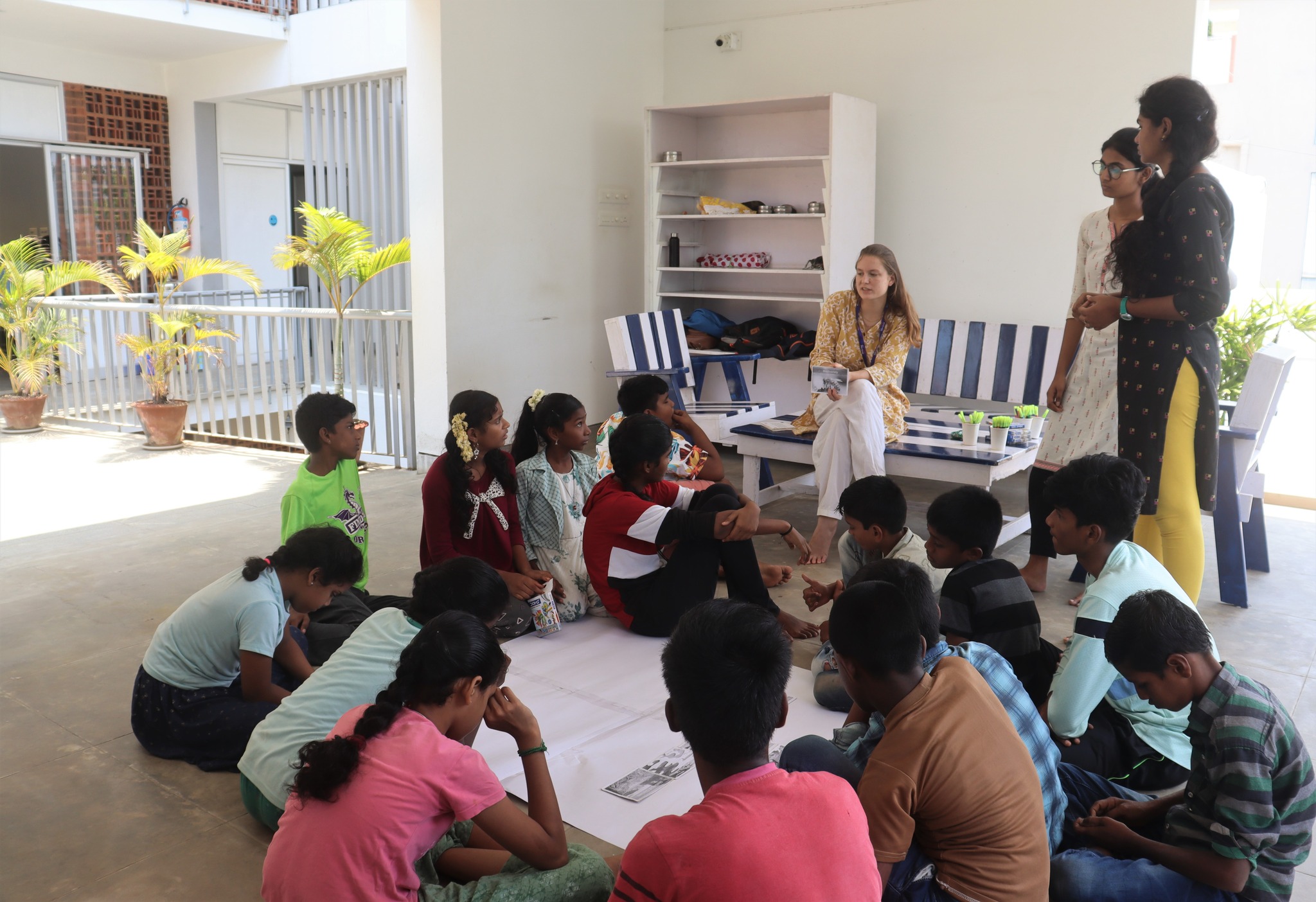 In addition, I worked with the social workers on a report regarding the profiles of Sharana's Social Entrepreneurship Program (SEP) beneficiaries.  Through their insightful explanations, I gained a deep understanding of the beneficiaries' living conditions, family backgrounds, the challenges they face, and how Sharana's SEP program is making a difference in their lives (both in Pondicherry and Angalakuppam). I could also meet some of them, through monthly meetings, sessions or visits. It was  nice to see that the social workers had forged strong and close relationships with the beneficiaries, based on trust and  respect. They not only provided financial support but also created a safe space where women could freely express themselves and share their emotions and feelings. I was very impressed by these women who always greeted me with  smiles, laughed during the meetings, and even could make some jokes about their lives. Despite the hardships they  endured, they maintained a positive attitude and displayed remarkable courage and gratitude towards Sharana.  
Finally, I was spending two days a week in Angalakkupam's dispensary. I was helping with the creche in the morning,  and the rest of the time I was teaching Lakshmi how to use a computer. At first, it was a bit complicated because I always felt very tired – as I was not very used to looking after so many young children, and because we had to endure the heat with the many power cuts in the village. However, I developed a real fondness for this place, its peaceful and joyful atmosphere created by these 5 welcoming and caring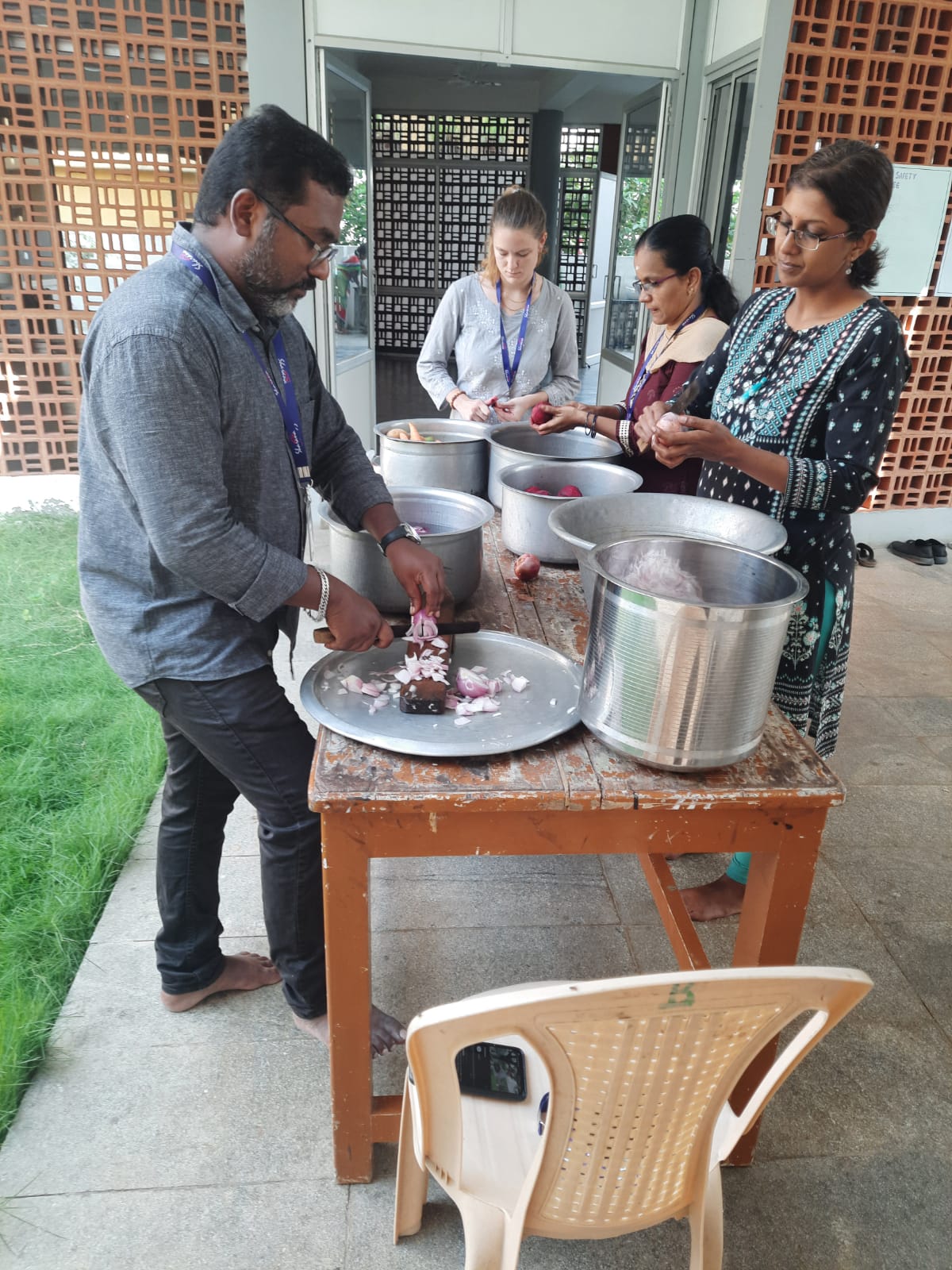 women who managed it for more than 20 years. We exchanged a lot about their own lives and women's lives in India, the evolution of the village, their expectations and wishes for the  future… And  I knew that I will always find more energy with Ponni's (the cook at Angalakuppam) delicious tea.
Throughout my experience, I was surrounded by a very welcoming and helpful team. Even if some of them didn't speak English very well, we managed to find our own way to communicate and laugh together. During the summer camp, I have great memories of us cutting vegetables. It was great to see everybody getting involved and helping each other,  without giving attention to the hierarchy.
To conclude, I am deeply convinced that this experience has bring me so many great memories and helped me to know more about myself and this country. Of course, I needed time for adaptation and had some difficult days, as it was a completely new culture, a new way of working and a new field. I sometimes felt frustrated, tired or confused, but bit by bit I find my place and I will always cherish every moment, every smile and every discussion.