Penned by Board Member Alo Pal
Sandhya is eight. Her father is an unemployable alcoholic, her mother is an unemployed alcoholic sober currently because of failing health. Her sister works as a house help, the sole breadwinner of the family. Our Social Workers observed that Sandhya is unsupervised and loiters on the streets outside the house and is in innocent unselfconscious banter with every man that passes by who stops and engages with her. Vadivu, our Lead Social Worker, noticed her, and Sandhya is now one among 50 children of a total of 130 who are not on the Sharana's list of regular beneficiaries of our Back-To-School program who receive academic support, attending Sharana's Summer Camp. Everyday she spends her free time in a supervised safe space, engaged in fun, therapeutic and constructive activities, has access to clean toilets and hygienic meals. There is a camp at our Angalakuppam rural Community Centre too, where 70 children attend daily.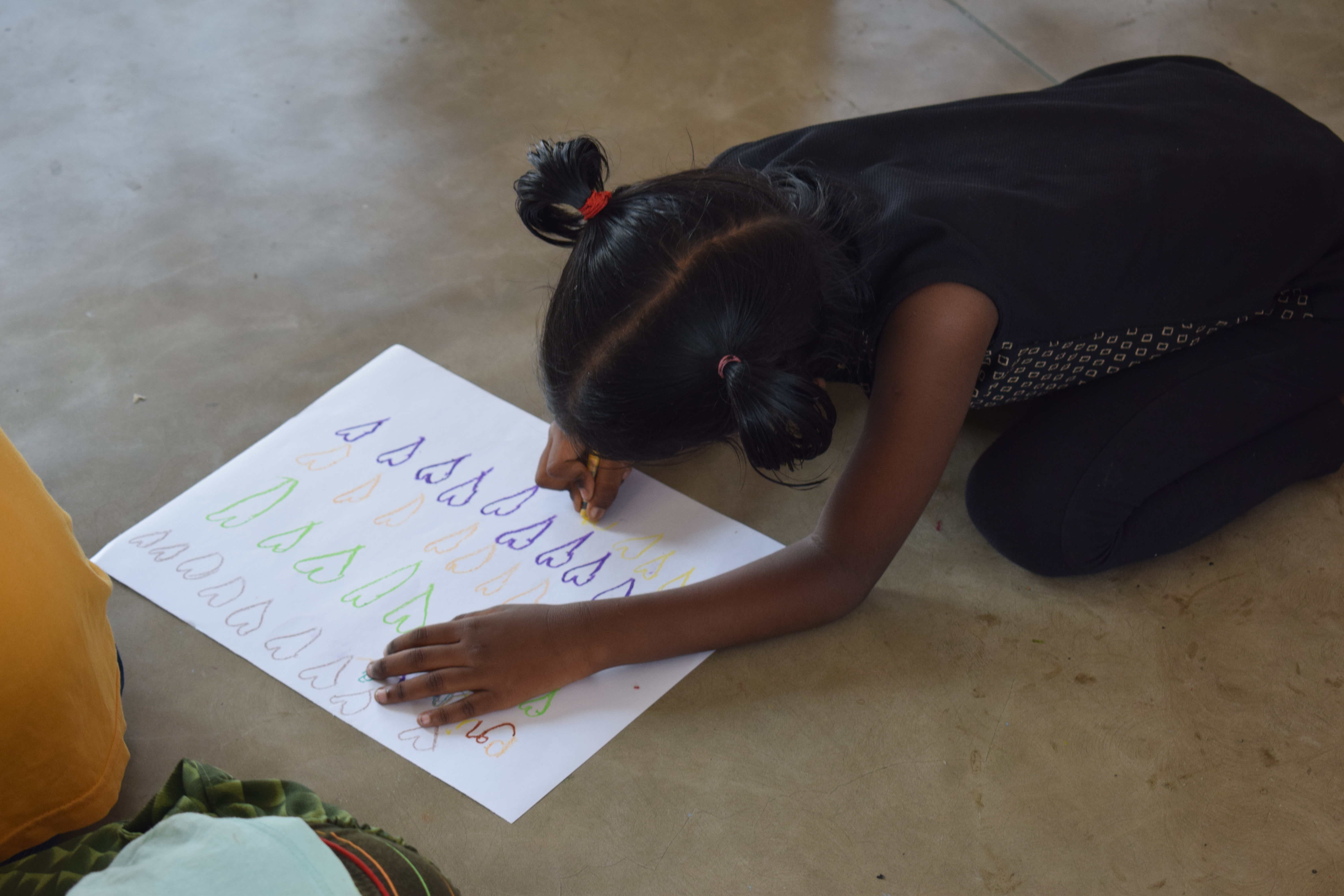 The Summer Camp at Sharana is a long-standing programme that has evolved and adapted over time to align with our core philosophy that parents should take out time to spend with children during the holidays. We have therefore moved away from a residential Summer Camp to a daily drop-in model. The invitation to join the Summer camp was extended to all our regular child beneficiaries. While it is heartening to note that while some spend the holidays with their grandparents, some unfortunately live too far for a daily drop and pick up schedule. On the other hand, through word of mouth, news of the camp reached many homes and children outside the Back-To-School program, some coming from villages several kilometers away.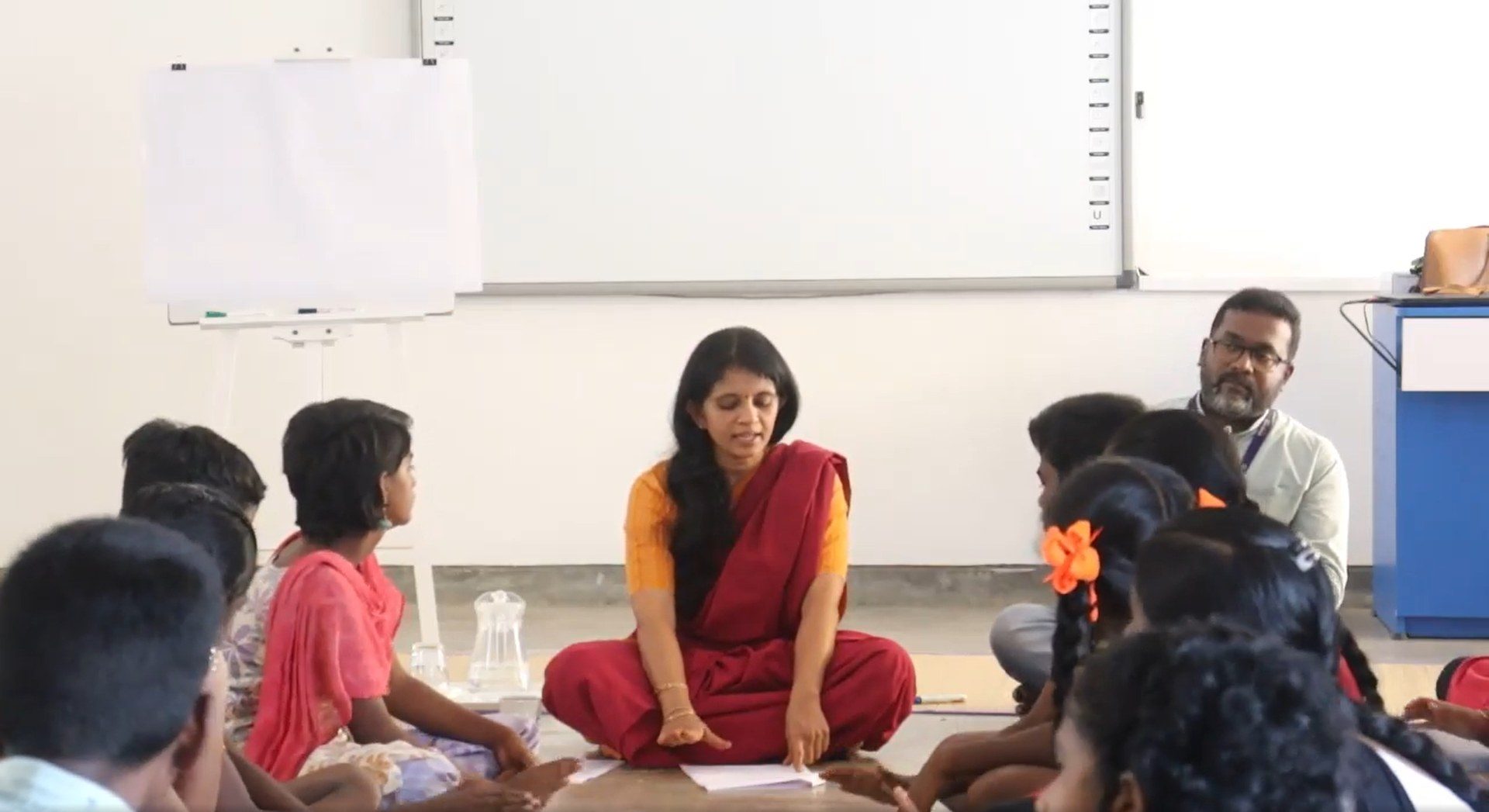 Another shift in the activities is to limit external resource persons who typically interact with the children in one-off sessions, talks or activities. The conscious decision now is to use internal resources and interns and conduct longer, more sustained activities, many of which will culminate in a performance to be staged towards the end of the holidays. What is wonderful is that there is beautiful synergy between every category and competence of staff. Not only does everyone have a thorough training and orientation in Child Protection and Child Rights, the team at Sharana is a true example of joyous harmonious collaborative work. Four committees, proposed by Prakash, our Program Manager and In-House Counsellor, have been formed consisting of 3 children each who are in charge of student safety, discipline, cleanliness and waste management. A daily end-of-day meeting and feedback loop with Vandana, our Operations Director, has ensured a smooth efficient running of the camp.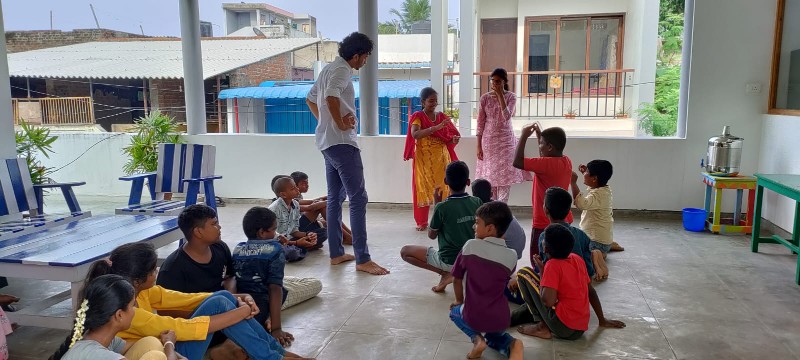 The camp begins at 9:30 in the morning with an hour-long Yoga session. The resource persons are a wonderful couple- the lady conducts the session in the Sharana Social Centre and her husband conducts it in Angalakuppam village. This is followed by a half hour break where refreshments are served and children use our bath and toilet facilities. 11:00 am through 1:00 pm the children are active in art and games sessions that last an hour each. An hour-long lunch break follows after which some children return home. An average of about 40 stay back, and for the next two hours Ballet and modern dance, folk dance, Bharatnatyam and Theatre workshops are conducted. Three times a week they get singing lessons from board member Dr. Deepa Reddy. Romila, a Dance and Movement Therapist interning at Sharana, is using the programme to get the children to get in touch with their real sense of self and get them to express themselves with confidence aided and guided by the science and methodology of Expressive Dance. Tanay, our Communications Manager and a theatre enthusiast, conducts the theatre workshops, principally in mimes and is now preparing a few items with participants for skits with scripts. Tanay, who instructs in English, observes that though initially communicating with the children at the Angalakuppam village was not easy, the children were more focused and engaged and soon language stopped being an impediment.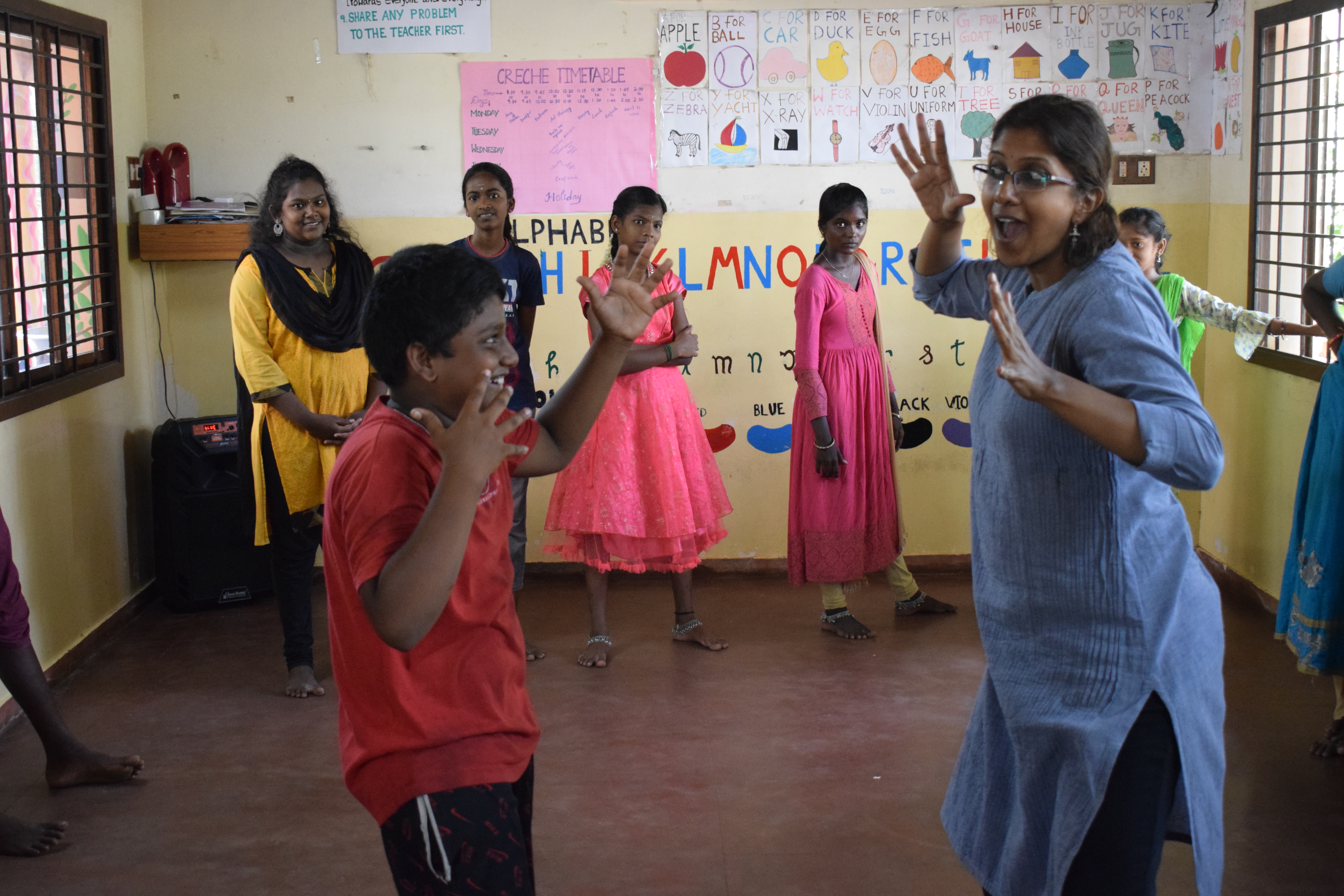 The Summer Camps shifts and ups the energy of the Social Center like no other activity. There is a happy harmony in the buzz and the cacophony, clearly an expression of just how much our children love the space they access. As I came down the stairs from the second floor after jotting my notes for this blog, the delicious aroma of the tomato rice and mixed vegetable wafting through the air was so tempting that when Ravi, our Program Manager, offered me lunch, I readily agreed. I took my plate and went to the hall where the children were sitting in neat rows eating, and the staff was moving from row to row offering the children water to drink. Those who had finished picked up their plates and did a quick rinse. While Manuel, our Program Manager and Child Protection Officer, was giving me more insights on the summer camp that I heard amid happy voices of children enjoying a tummy full of delicious healthy food.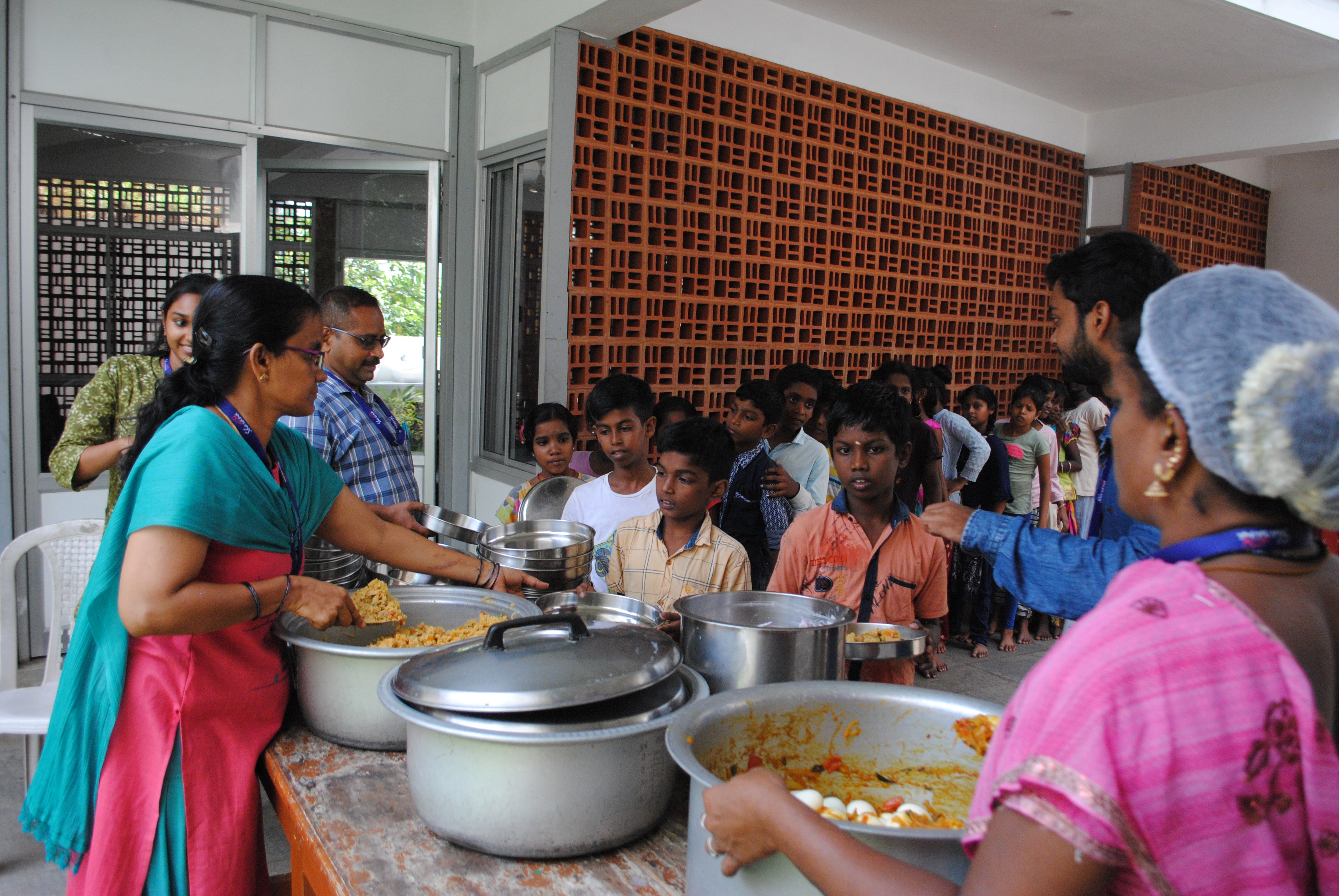 As I got on to my scooter to head home a little girl came up to me.
– Are you going straight down this road?
– Yes
-Will you drop me home?
– Sure, hop on!
She waved to a Social Worker and sat on my scooter. 
There is a very special clan bond that seems to bind families on narrow streets of the slums of Pondicherry. This made me feel immediately better that many of our children walk to the Centre by themselves. "I've hurt my hand" she said, "run some cold water and tell your mother it is hurting, take care" I replied. A sweet little full tilt of her head on one side and she was gone. What better validation of trust could I get for the haven of love and safety that is Sharana. Holding back the tears welling up my eyes I drove off happy and grateful.