–penned by volunteer Aastha Agarwal who was with us in the months of May and June. Inspired to share her experiences, she wrote this piece on her own initiative.
I had 2 months before heading off to university to pursue my Masters and I wanted to spend my time doing something meaningful and enriching; something which would leave an indelible lifelong impression. I was lucky to get an opportunity to volunteer at Sharana and even luckier to be part of the Summer Camp.
After discussing with the team, I was entrusted the responsibility of teaching movements with music. I was excited- as well as nervous. The children had never been exposed to such a dance form, so I didn't know how they would respond. There was a language barrier too as I can't speak Tamil, but fortunately I had Harshitha (a team member at Sharana that I knew from our school days) to help me out. On the first day, more children turned up than expected and all of them couldn't be accommodated by the yoga teacher. So, the first few days Harshitha and I were assigned to teach the younger children basic asanas. One day, Manuel sir asked me to teach meditative movements for the children who were a little older. I made them imagine they had a ball of energy and we did various movements with this imaginary ball. This was a very nice experience for me as I had never really done something like this. The first few days taught me to think while on my toes and be creative and innovative.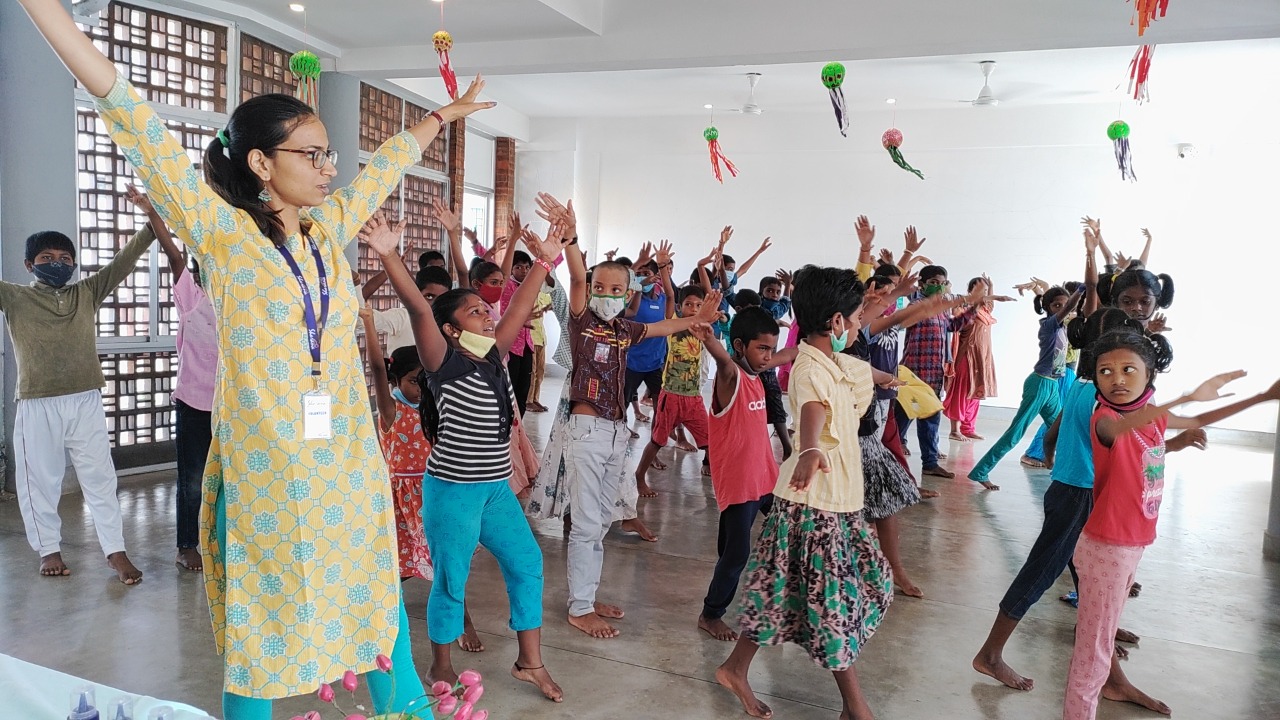 Next, I started teaching movements with music. The first day passed quite smoothly and I felt I received a positive and warm response. Surprisingly, the children didn't seem shy and their receptivity to something so new made things easier for me. Once I got a fixed batch of 20, I thought of teaching them a fixed routine, which they would perform at the end of summer camp. We saw that one full hour of dance was getting too taxing, so the first half an hour, Harshitha and I would try to come up with some innovative games such as 'statue', fun warm ups and relay races. There were times when it was almost impossible to control the children, but eventually they would come around. I saw a huge improvement over the days. The first few days, there was a lack of concentration and coordination, but the children really made an effort, and I must say they did such a good job on the day of the program that my heart filled with joy.
When I was not involved in a session of my own, I would assist with the arts and crafts session, help out with the refreshments, take pictures, or play games with the children. The whole place was bursting with energy and activity. There was always something to do, and I honestly don't know how these three weeks flew by. Everything was so organized and spot on, be it the kind of activities, the food, the hygiene etc. I absolutely loved interacting with the children. Carrom sessions were the most fun! I would always lose, but have so much fun every single time. Though I wish I knew their language, it didn't stop me from forming a close bond with the children. One could see the simplicity, innocence, and need for affection right in their eyes. What really struck me was their ability to be happy despite all odds and be content with the little joys of life. They taught me more than I could ever teach them.
One day, Manuel sir (Sharana's Art Therapist and Expressive Arts practitioner, as well as Child Protection Officer) conducted a very interesting art session where he played a musical note and the children picked a color and painted a shape inspired by the sound of the note. So, for every note, they would have a color and a shape and they filled their papers. Each note had a specific number attached to it, so after they were done they chose a direction on the paper and noted down the sequence of the numbers. Manuel sir then told me to take their numberings and create short little musical pieces on the keyboard for each child. While, I had played the piano in school, I had never really done any composition work. In my free time I worked on composing the pieces. It was challenging as well as fun and it helped me revive my musical skills. We have to yet take it further, develop and record the compositions, and then the children will dance, sing, or write poetry to them. I'm excited about the outcome!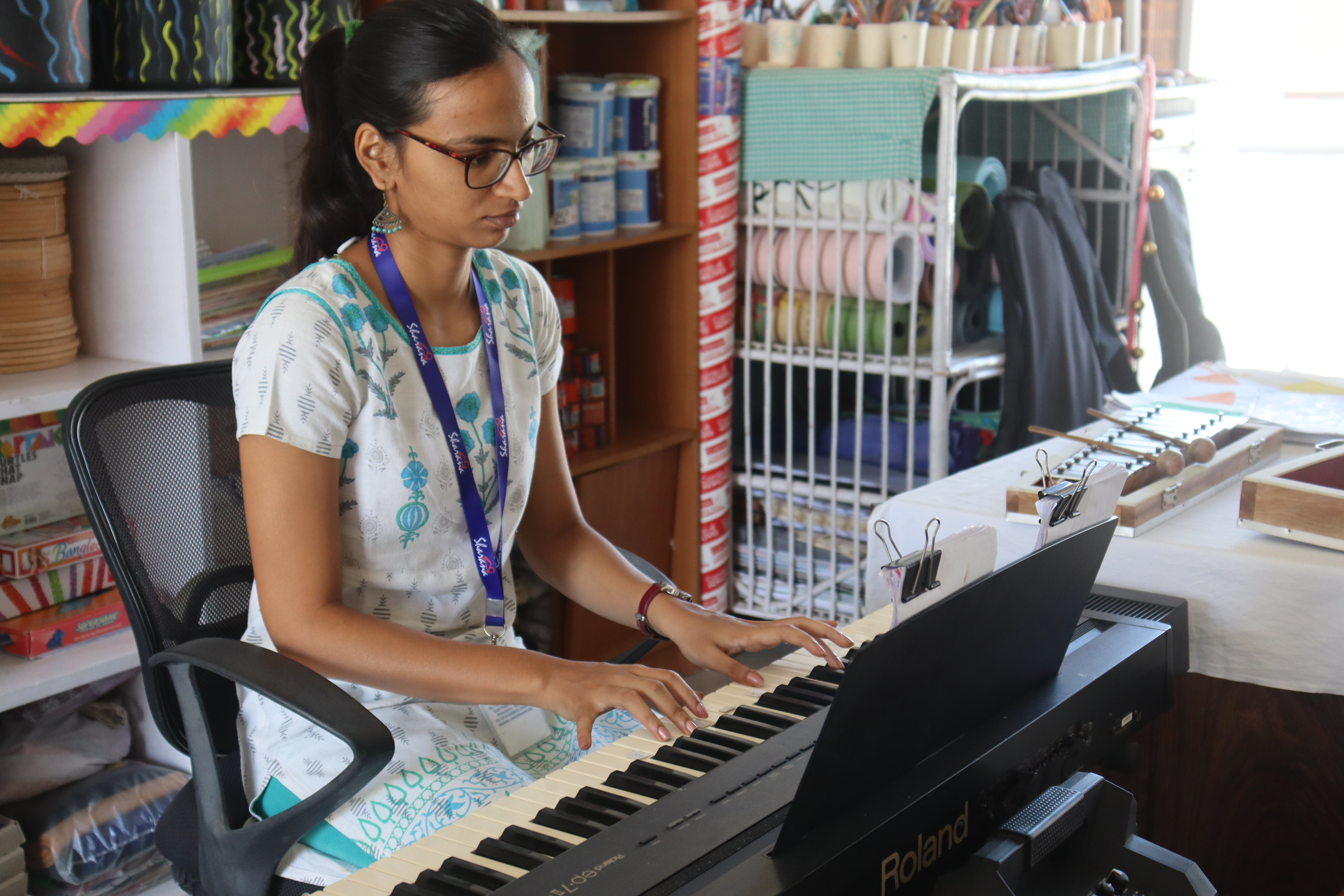 I feel fortunate that I got to witness these activities and some incredible performances. There was a newspaper sculpting session and I was completely blown away by the outcome. One couldn't believe that the figures the children created were actually made out of newspaper rolls; they looked like real statues. The Silambam and martial art performances were impressive, athletic, and energetic and the whole audience was enthralled. I absolutely loved the chanting session by Deepa Ma'am (a Board Member at Sharana who is a cultural anthropologist and also has a wonderful voice). Her voice created such a meditative and contemplative atmosphere and I was inspired to learn the Mahishasura Mardini Stotram.
To conclude, I would say that I couldn't have joined Sharana at a better time. A big shout out to the entire team for having organized everything so beautifully and meticulously and created such a safe and comforting haven for the children. Everyone worked together harmoniously and responsibly. It felt like we were all one big family. And no matter where I go, I know that I can always find love, warmth, and solace in the memories of these three weeks spent at Sharana!