The following stories are a documentation of his work by Mr Manuel Theremand, our in-house Expressive Arts Practitioner and Art Therapist, as well as our Child Protection Officer. Penned by Board Member Alo Pal.
Born to alcoholic parents, living on the streets, used by their parents for begging with not a remote intention of sending them to school, these 7 children aged between 8 and 14 were all sniffing glue and whitener. They were desperate and resorted to stealing and even twist and break iron fencing around parks to sell and procure the substances. In 2012, Sharana ran a daycare center and children could drop-in for a shower, fresh food and especially a few hours of sleep. The street was a hazardous zone where a child was left unattended in the day and unable to rest at night due to unpleasant circumstances exacerbated by alcoholic parents.
When they came to the Drop-in Center, they brought their substances with them. These were highly disturbed neglected children. Engaging them in any activity was challenging since the craving for substances was significant and all activity was frequently interrupted with them scurrying to their belongings and sniffing.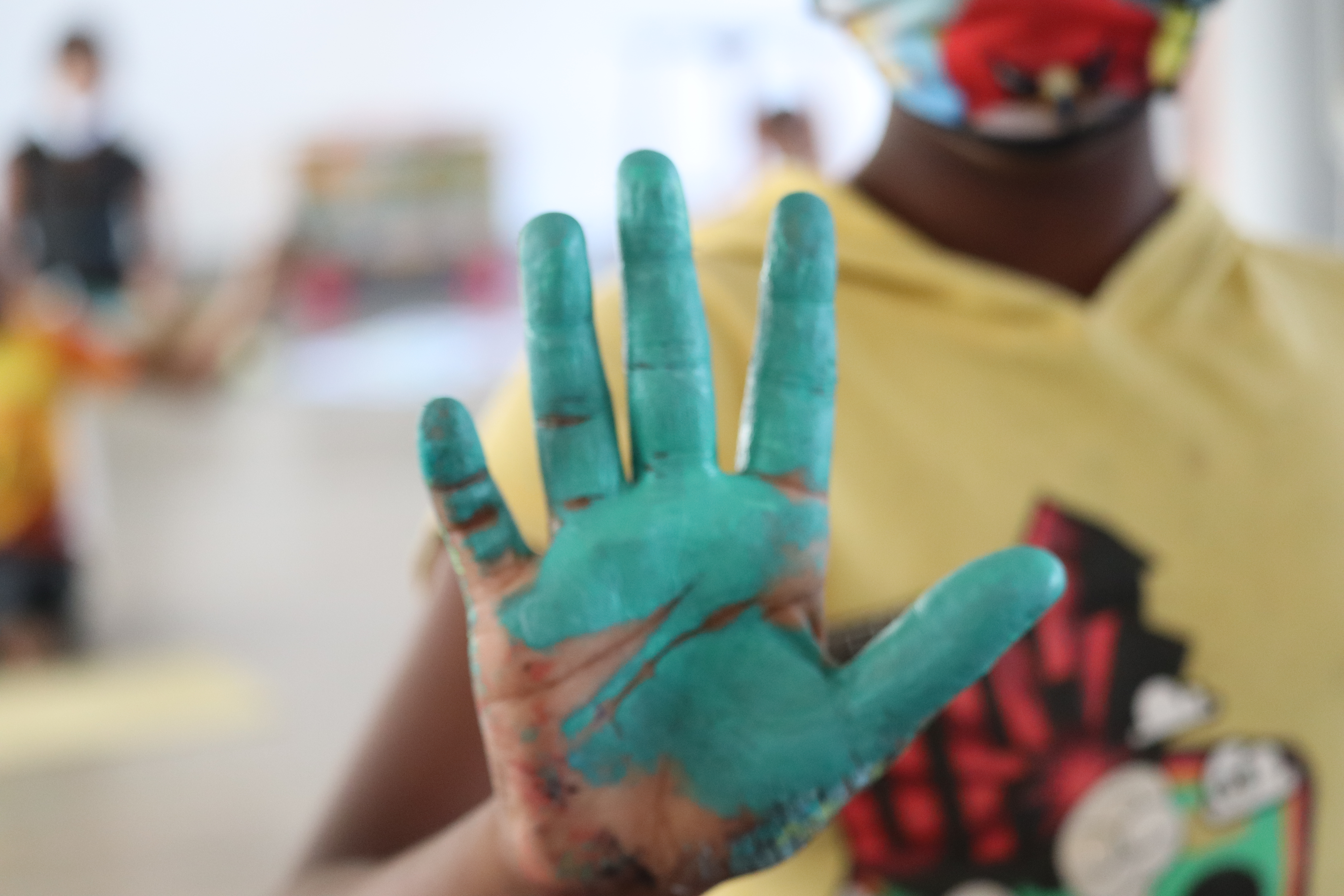 Those were days when Sharana also ran a shelter and these children were moved there. Over time, with prolonged persistence with art work and art therapy the children were seen to slowly and organically disengage from their addictions. They began to spend longer hours without sniffs and ultimately healed. Six of the seven were enrolled in school. Art was instrumental in pulling these children out of their dependency.
Very gently, it worked its way into rehabilitating these children, who were found living off the streets, begging, inebriated, vulnerable to inhuman abuse.
*********
His family had recently moved from a slum to a home. At 14, he stopped talking, stopped going to school, withdrew completely and lived in fear. When Manuel saw him in his home he was completely withdrawn, very afraid, surrounded by totems of all faiths combined. All religious rituals to free his spirit had failed.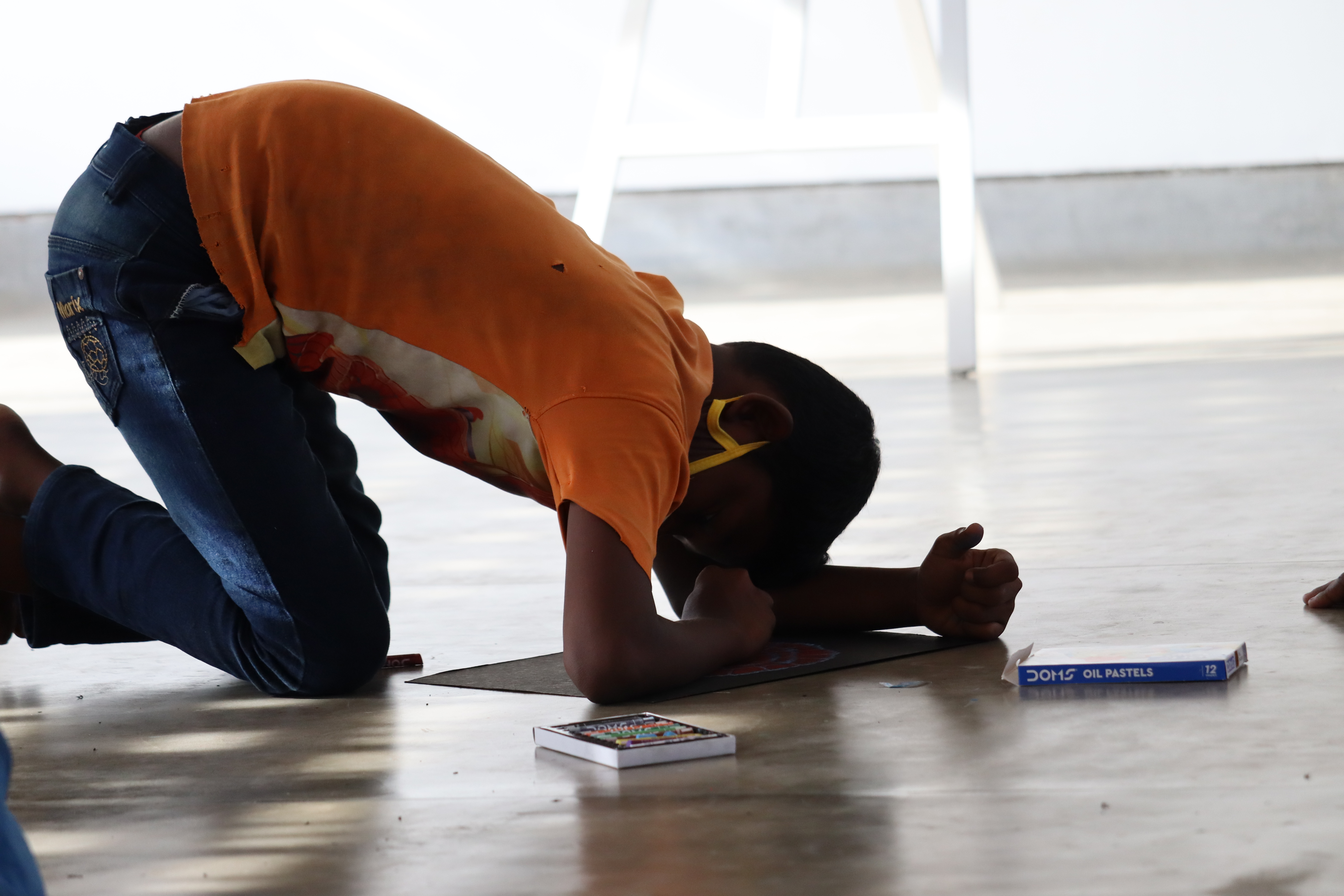 Manuel didn't invest in any urgent counselling, instead he left the boy with some paper and paint. Over sessions a theme began to emerge: a street lamp, a red figure pointing at a house, details of the space around the house, during the second session he started to talk after the painting. He resumed speaking to his grandmother and brother but refused school. Manuel was there with him during the third session and he started to open up. He had decided to try beer with his friends and was seen. It emerged that the consternation of being found out clamped down on his personality brutally. The 5th session was at the Sharana office, he understood that the "now" was more important that the "then". Unshackled of the fear of being called out and judged, he resumed school.
************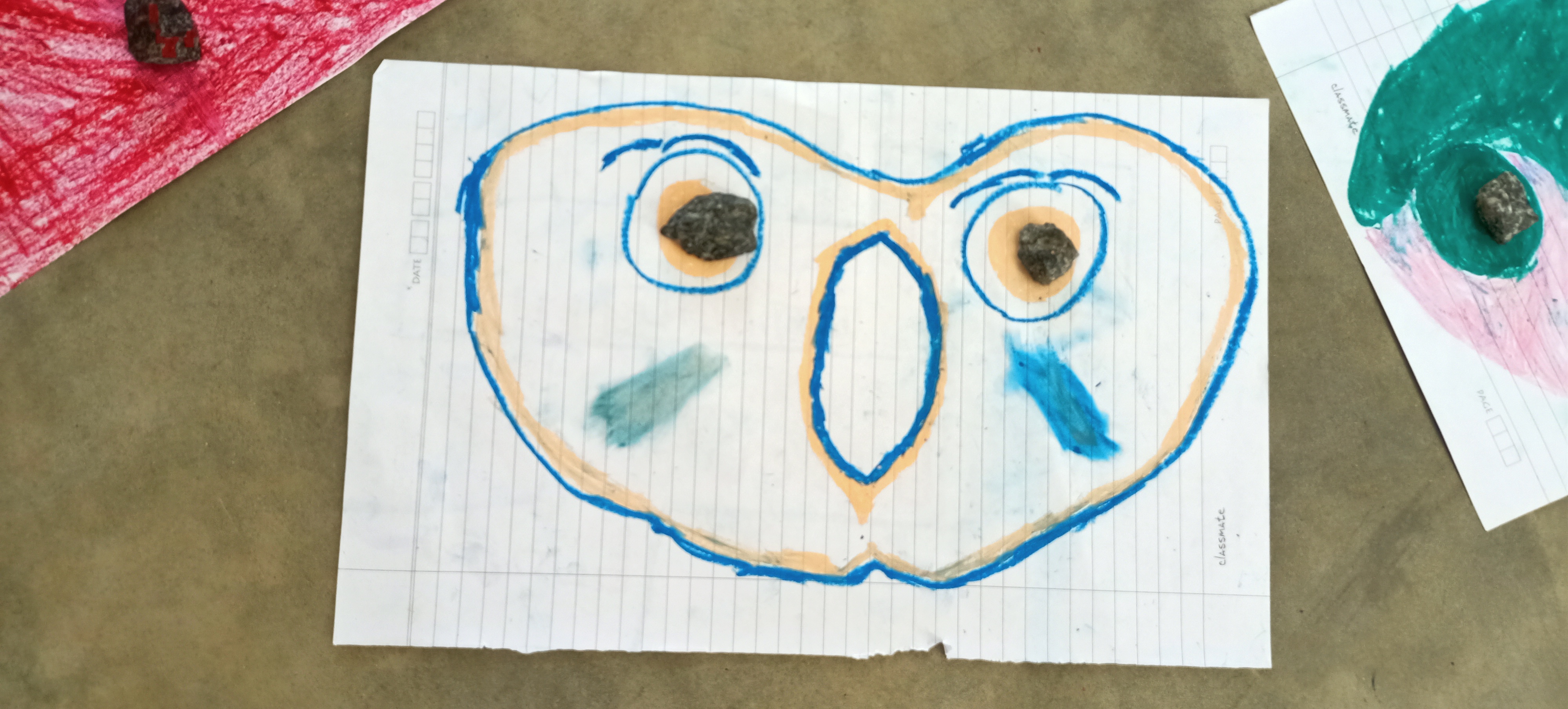 Always they were the wide eyes of an owl watching that emerged from his drawings. Unlike the previous case where a group of boys drinking beer were spotted, in this case a bunch of boys were filmed drinking beer behind a bush and a video of the incident was circulating in the neighbourhood within minutes. Unmonitored during the Omicron lockdown earlier in January, utterly unoccupied,they were caught and shamed copying their peers drinking. The resulting reprimands and public shaming drove this young boy to become violent and unruly. He was ashamed at the way the incident had panned out, that his mother didn't stand by him and his father hit him. As Manuel watched him draw, the child opened up, his sense of being let down and humiliated by his parents, gained perspective, he started to recall happier memories. He understood that it was his mother who sought help out of love for him and his father loved him too and brought him to therapy every day.
************
Just as the first wave hit, in the middle of a draconian unprecedented lockdown, Punith, the son of a Kaladevi, who works at the accounts department at Sharana, had to be rushed to the emergency at JIPMER then to Apollo Chennai. An emergency tracheostomy was performed so he could breathe. An overzealous immune system after a viral fever had attacked his nervous system, paralyzing him. What ensued was a two-year long recovery process with many an emergency, a huge financial drain, relapses and partially successful surgeries of scarred trachea making breathing laborious. One can only imagine the agony of a child and the parents. They alternated between hope and despair in an exhausting loop. In an attempt to alleviate the situation an art kit was given to the boy and what ensued was magical.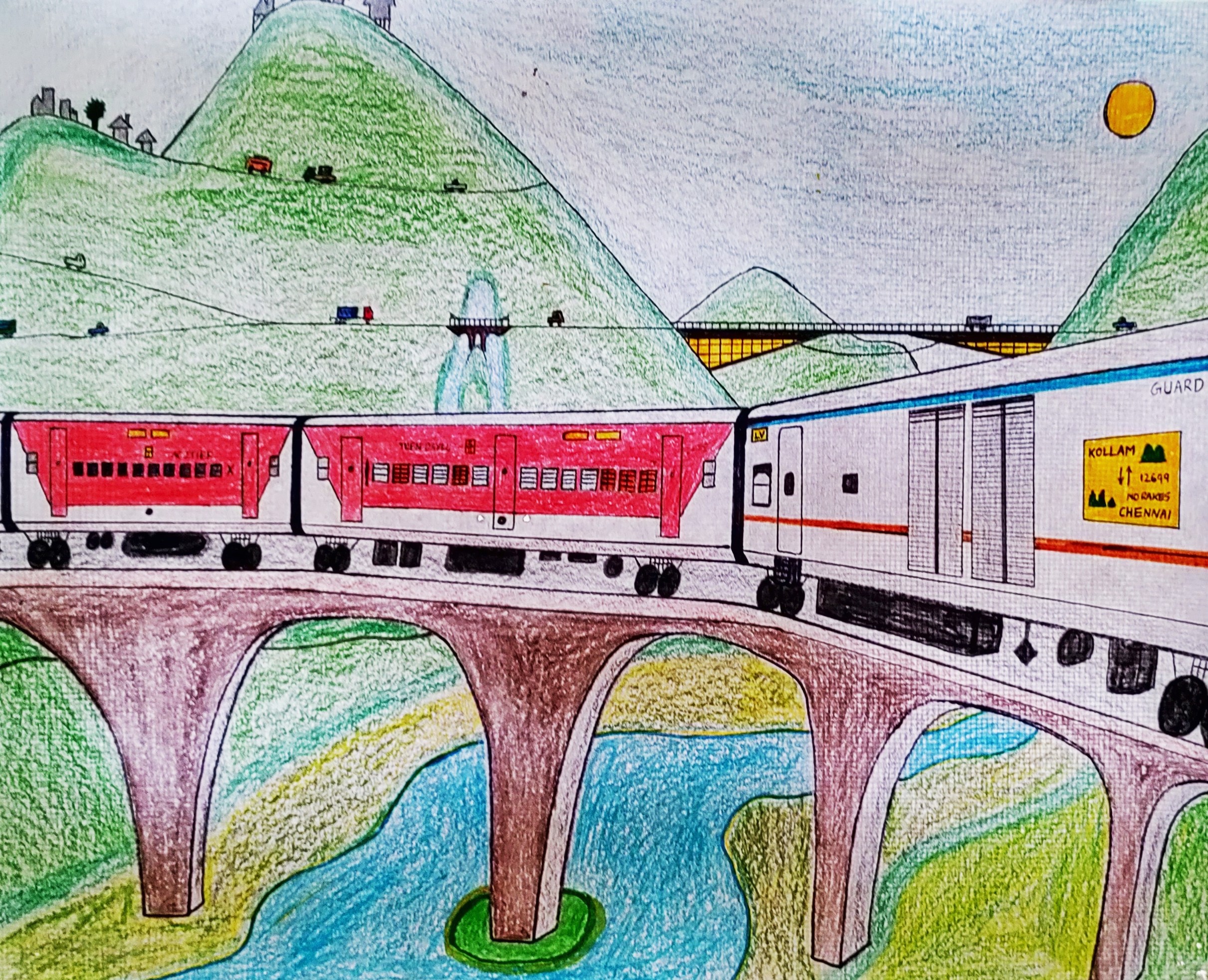 His attention shifted from sad thoughts of being a source of worry for his parents and his parents got hope when they saw his spirits raise when he drew. As it turned out Punith had a keen eye and a meticulous love of detail. His paintings changed the mood around him. He shed his gloom and his parents got hope.
Art knows no boundaries, no demography, no status, no wealth nor poverty. It touches. It heals. It gives hope. It changes lives.
(All images are representative, except the last)