Sharana's Social Entrepreneurship Programme, has opened our eyes to the ease of life we can bring about by giving our beneficiaries a small loan to help them set up businesses.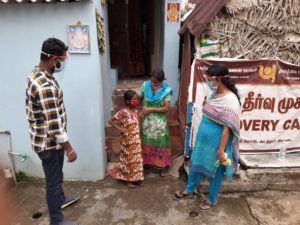 In the last two years, our interventions have meant that in some deserving households there's more food on the table, there's more frequent food on the table, and there's reduced pressure and drain of hard-earned money slipping away to private money lenders. Most rewarding is the empowerment of our women the awakening of the entrepreneur in them and their desire to work really hard to make a difference and lead better lives in more dignity and ease.
But COVID19 changed and upset many plans and lockdowns meant that the fledgling businesses had to come to a sudden halt and incomes dried up. Sharana provided relief materials in a kit to the most affected. As most of our beneficiaries fall under the Red Ration Card, BPL families they've received food grains and monetary transfers by the Central and State Governments. These have no doubt gone a long way in preventing a catastrophe of hunger and starvation. But income generation continued to remain a major issue.
Some of our beneficiaries however showed remarkable resourcefulness to work within the new normal and innovate with new business plans to ensure a steady albeit often a reduced, income.
In the next few weeks, we will bring to you some stories of this remarkable resilience. To us it is a very encouraging sign that autonomy and self-worth are the best agents and catalysts for lasting development.