Post the waste management section in the village of Angalakuppam village, every household has been given a dustbin to collect the home's dry recyclable waste; this is in turn emptied into large community dustbins placed at strategic points in the village.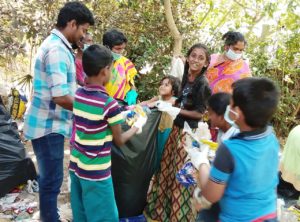 When the waste is full- every few weeks, community members come to the Sharana community centre and help sort the waste out into types, e.g. paper, plastic items, water bottles, glass bottles, cardboard boxes, water, milk and oil packets, plastic covers, snacks covers, etc. This is in turn taken to the scrap show owners who buy this material by weight. The eventual aim of this action is to be able to collect enough money through sales of recyclable material to be able to pay for the waste sorters wages.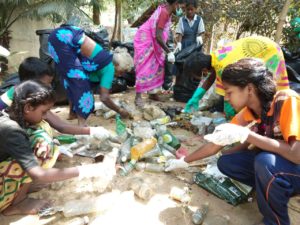 Last week this sorting took place once again, both social workers and a group of children also participated in this activity this time. There was a feeling of team work and moving together towards a cleaner village and cleaner homes. Jokes and games interspersed a busy morning of waste sorting.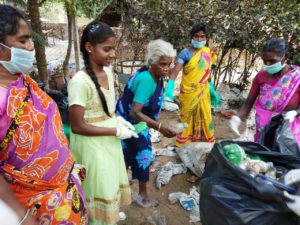 While we have put into action the Seeds of Change program in several areas, we are proud to announce that it has reached another level altogether in Angalakuppam. Having said that, we have a long way to go, and the children are motivating us to move closer to that aim every day- towards a more Swachh Bharat.