As an initiative from Dr Nalini Ranganathan- board member of Sharana and head of Women's studies at the Pondicherry University along with Mrs Nalini Kamra and team from IWIN (Indian Women Network)- a group of children participated in an activity along with volunteers at the Pondicherry University.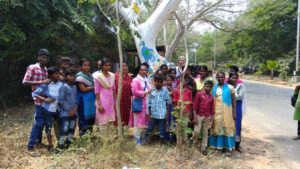 On Saturday the 10th of March, 20 children from the Drop-In Centre went to the University along with social workers Vadivu and Ravianand, teachers Jayalakshmi and Subha, coordinator Vandana and volunteer Mrs. Cécile. They were met there by by Dr. Nalini and volunteers from the Pondicherry Unviversity as well as the team of IWIN (Indian Women Network) with their president Mrs. Nalini Kamra. All volunteers, students and children and team from Sharana participated in painting dead tree trunks for several hours on a Saturday morning. It turned out to be a day of fun, creativity and togetherness. The theme of the day was Women and the result was one of beauty, togetherness and hope.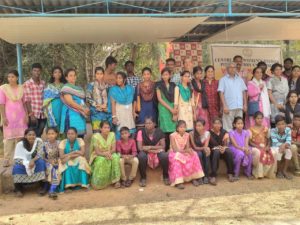 At the end of the afternoon, the dean of the School of Education felicitated the children in the end of the morning; he encouraged them to pursue their education and said that one day he hoped to see them at the Pondicherry University.