The schools have reopened! There is enthusiasm in the air: of new classes, new books, new teachers and new friends. The children-now slightly taller than last year- are ready after the school holidays to take on new challenges.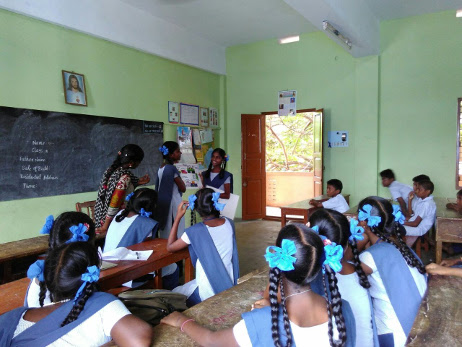 As you know, the Seeds of Change project aims to raise awareness through games. But in the 5 schools where the project has been running for the past year, it is logistically impossible to play games with all the children. So to spread the awareness we use the methodology of child to child (http://www.childtochild.org.uk/about/vision-mission/) developed by Professor David Morley and Dr. Hugh Hawes in 1978. Essentially, it aims to help children share their knowledge with other children. This has proved an effective method in other parts of the world and would be the first of its kind in Pondicherry.
A quick recap of the how the Seeds of Change program progresses: Our team of educators raise awareness with a group of children- who then raise awareness of the community or the school- and then a concrete action is implemented. In the last academic year, a group of children in each of the 5 schools had been sensitized on the topic of waste management. Now, when the schools reopened, the process of child to child began. We would like to share the experience of one school: Some of the 7th graders at the Government Higher Secondary School, Nonankuppam had combined their creative elements to produce among others the drawings seen below.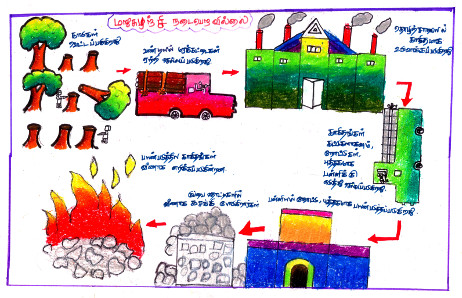 The first drawing explains the current behavior most people follow and its grave consequences.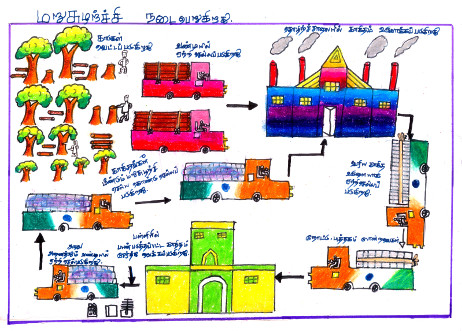 The second drawing proposes a solution of recycling waste paper and the benefits on the environment and therefore, us.
But what can the children do about recycling? Quite a bit, actually!
The third drawing is to explain how children can make a difference! The drawing proposes a waste paper collecting system. There are three options:
1. An aluminum stand that is used for collecting bills
2. An old cardboard box
3. A file.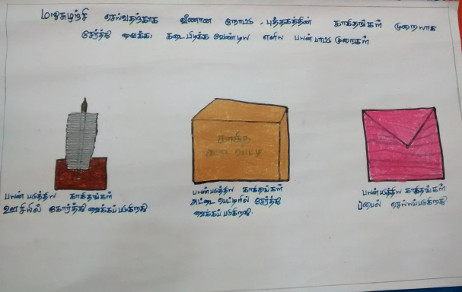 The chosen item then would be placed in each classroom and the class leader would make sure all waste paper is put separately. Once a month, the paper from all the class rooms will be collected and given to the nearest scrap shop for recycling.
In this way the children have not only been made aware but are also taking an active step to improve their environment!
Here is a group of awareness messengers explaining their drawings to another class.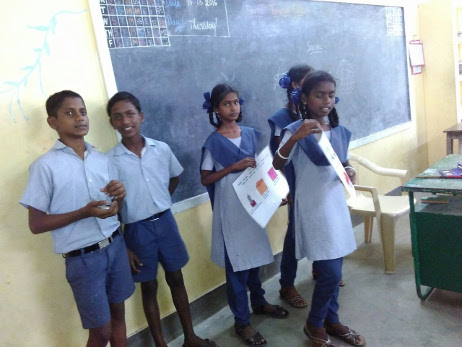 The seeds of change are planted and the first shoots are starting to show!