-penned by Jagriti Shankar and Prakash A.
Sharana celebrated International Women's week from 1st to 8th of March, 2021, with various events including awareness sessions on women's issues, community art activities, gender sensitization games, as well as a poster presentation program with the students of Centre for Women's Studies(online) and the women beneficiaries of Sharana's Social Entrepreneurship Program(at our social centre). All the events focused on "Achieving an Equal Future in our COVID-19 World", the theme of the United Nations for International Women's Day 2021.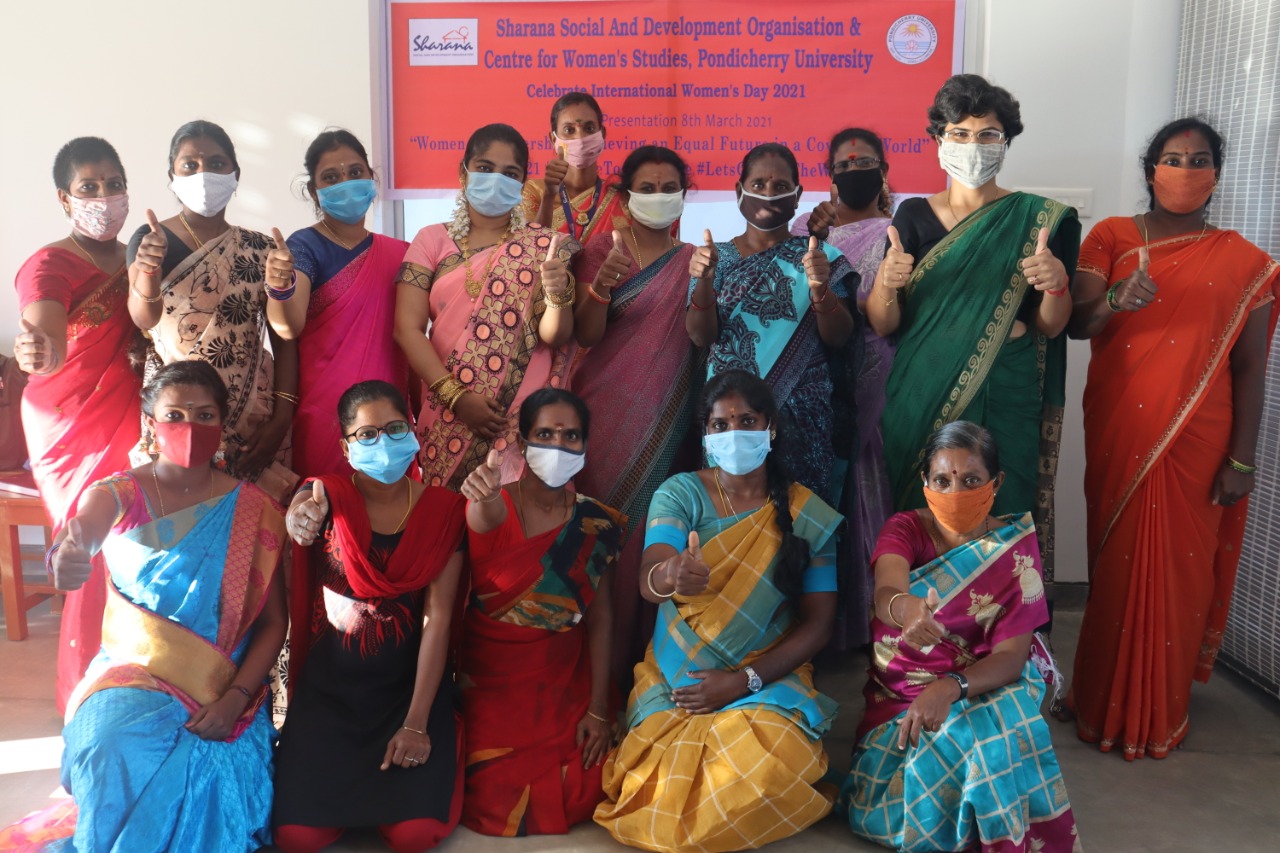 The festivities of IWD week started by lighting a lamp in Sharana centre, which was followed by a Kolam preparation.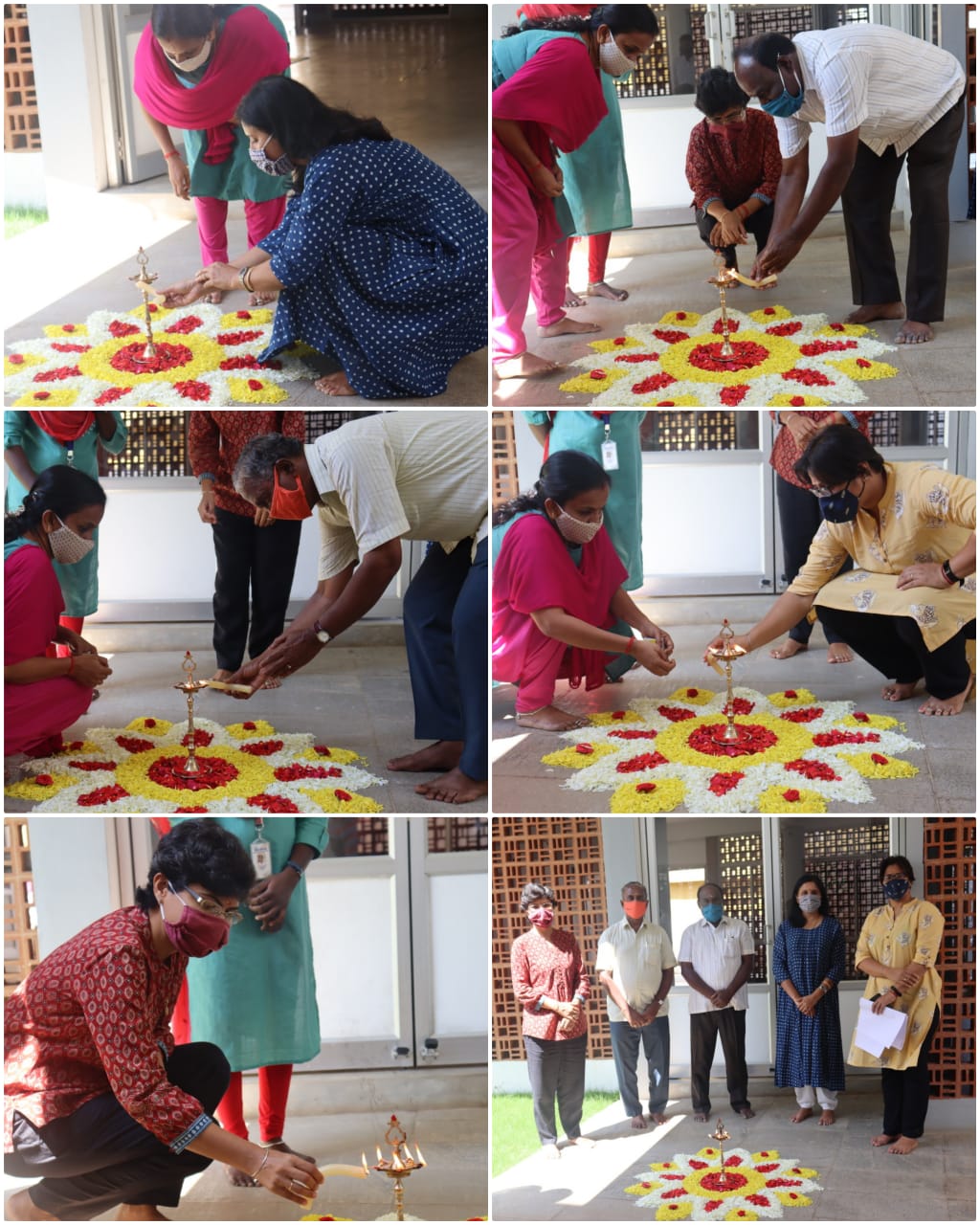 'Kolam', which means 'beauty', is a floor drawing made with white or coloured flour, and is used for ornamental or ceremonial designs during traditional Indian festivities. All the staff of Sharana participated in making Kolam, which is an essential activity, particularly in South India to mark auspicious occasions. Several women and girls from the village also joined our Sharana staff in drawing a beautiful Kolam at Sharana's Angalakuppam Centre, which was a beautiful sight, as it was a way for them to show care for Sharana and a way of giving back to the organization.
Over the years Women's Day has become an auspicious festival all across the globe to celebrate women's struggles and achievements. This year's celebrations were all the more important in order to acknowledge women's courage, strength and resilience that took women, their families, and nations, through an entire pandemic year of 2020. Working as covid warriors and frontline workers women have proved their excellent skills, hard work and leadership. At the same time managing different roles as office-workers "working from home", bread-winners, mothers, wives, daughters, women once again proved their leadership roles not only at the worksites but at the home front also.
At Sharana, in order to mark Women's Day this year, we did a couple of firsts like community art sessions, as well as conducting games to raise awareness on gender issues.
Two Community Art sessions were conducted at Solai Nagar, Puducherry, and in Angalakuppam, Tamil Nadu. Community art is a beautiful and powerful tool to bring the community together for a cause. For us, it was a way to raise awareness about women's day in the communities and to bring the entire community at one place to celebrate women's work and their lives. In both the events the community members participated in good numbers. Women and little girls painted about they life, and the challenges they faced during the pandemic. In one way it was a fun activity to do and on the other side, it was therapeutic as they could paint their stresses out on the canvas and push it out from their inner-self. Afterwards, women shared their experiences based on their drawings. Every inch of the canvas was telling a story in itself. It was also remarkable to see that a lot of men from the community also came to the events to show their support for the women and happily participated in the event.
As a first, under Sharana's Seeds of Change (SoC) Project, we played a game to raise awareness on the discrimination that women face in society. The SoC games are designed in a way that the message or the theme of the game is not told to the participants beforehand, rather it was understood by the participants with the rules of the games and the debate sessions, the message reveals itself slowly. In this game session, very early on women guessed the message of the game about unequal rules of the society for women and girls, and they started sharing their experiences and the discriminations they face in their everyday lives. Listening to women sharing their daily life experiences was truly heart-touching. For many of the women, it was the first time they had looked at their lives from this perspective and the first time they had spoken about society's unequal norms and rules for women and men.
The eventful week culminated on the 8th of March with an online poster presentation in collaboration with the Centre for Women's Studies, Pondicherry University. The event was presided by Dr. Aruna Chinnappan, the Head of Centre for Women's Studies, Ms. Rajkala Partha, Founder of Sharana, and Mr. Murugaiyan, CFO of Sharana. Dr. Aashita, Lecturer of Centre for Women's Studies presented the Vote of Thanks, and Sharana's Programme Director, Ms. Jagriti Shankar moderated the entire event.
The posters were presented by the women beneficiaries of Sharana and the students of the university on a range of women's issues and women's experiences during Covid-19. While the women of Sharana painted about their lives, homes and children, and how they were affected by Covid19, the students drew about the national and global impact of pandemic, and its impact on the women world over. It was an experience in itself to bring women from two totally different spectrums of life face-to-face and listen to their stories. The beneficiaries of Sharana who come from very humble socio-economic background were thrilled to share their experiences with the university students online, as it was their first experience to see themselves on a big screen and speak about their lives in public. On the other hand, it was a good experience for the students to listen to the troubles and sufferings of women from the grassroot level. The sharing was truly heart-touching!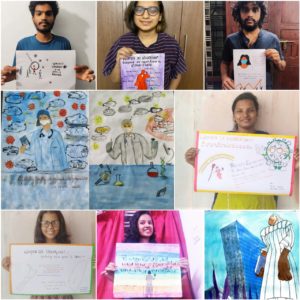 A big thanks to Dr. Aruna Chinnappan, Dr. Aashita, women beneficiaries of Sharana, and the students, for participating enthusiastically in the event.
A big thanks also goes to all women, men, girls and boys of the communities for participating in Sharana's Women's Week activities with their enthusiasm and infectious smiles.
Wishing You All a Very Happy Women's Day, 2021