Kalaivani realised she had to make matters in her own hands. Her husband's salary of 8000 rupees of which about 2000-3000 is sent from Chennai every month was just not enough to run the house.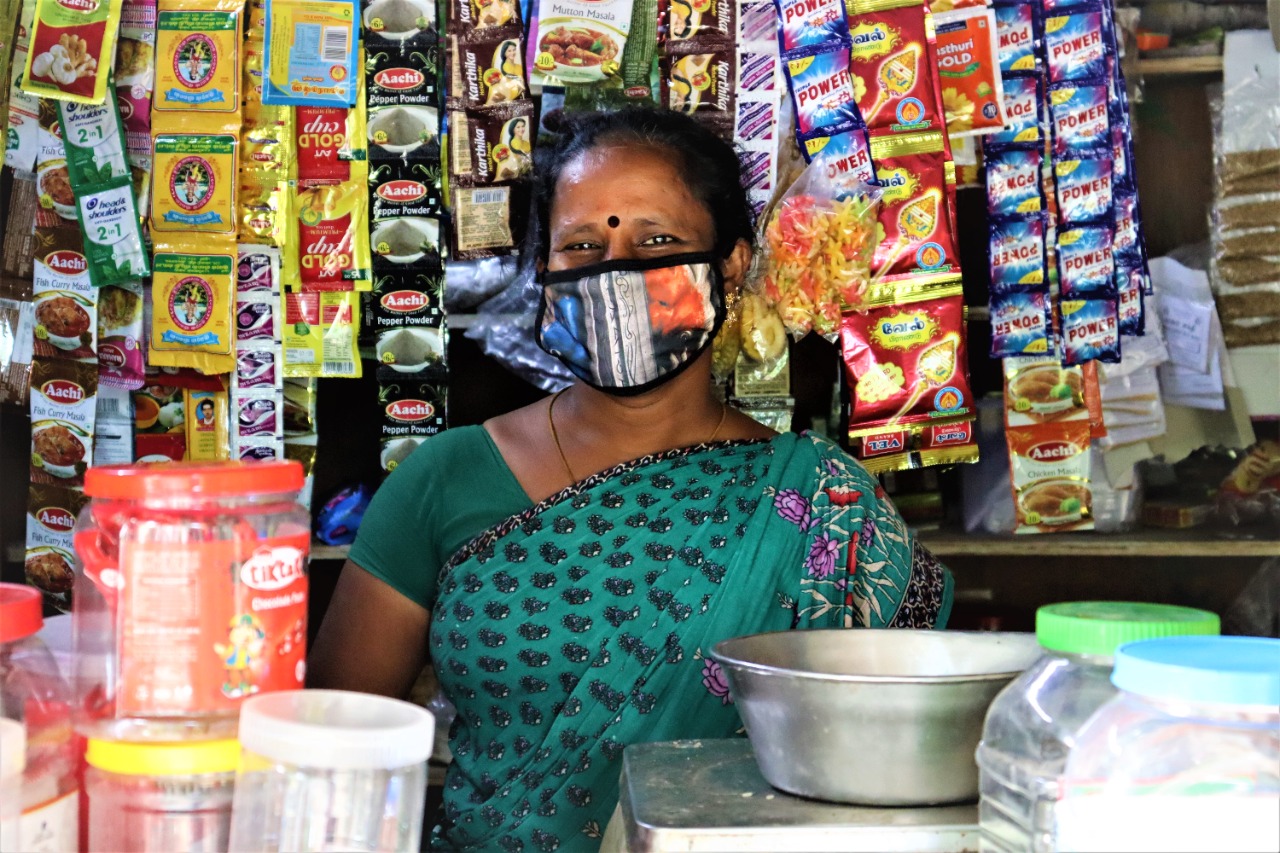 photo taken in August 2020
But what was she, an unskilled village woman to do? The only time Kalaivani had worked outside the domain of house hold chores and the kitchen was when she'd assisted a relative in running a small provision store when she was younger. All other avenues of income being shut or impractical Kalaivani decided to take a chance with opening a provision store in her house. She didn't have much capital to start with but mid July 2018, she procured whatever she could from the whole sale market and opened a humble outlet from her house. She was eking about Rs.250-300 per day
In November of that year, taking note of her initiative and struggle to improve her situation Sharana decided to give Kalaivani a loan of Rs 20,000 under its Social Entrepreneurship Programme. With this loan she not only stocked up on provisions, cleaning items and basic cosmetic items, but also included items such ragi powder, and rice vermicelli etc to her shop. She also had a shade constructed for the comfort of her customers. With this enhancement Kalaivani was now earning Rs 450 a day.
photo taken in October 2019 (pre-covid)
However, in the month of February 2019, trouble began to brew in her daughter's home and when matters came to a head; Kalaivani was forced to keep her shop closed for about a month in order to sort that family problem. It may be recalled that her husband, who works as a security guard in Chennai doesn't live with her, making Kalaivani the sole responsible and concerned person in such family crises. This was also the time when her neighbour decided to open a provision store herself. Even though it wasn't of the same scale, it was a matter of concern. Angalakuppam is a small village with a limited customer base. Incomes are low, and customers go to the closest functional store for their needs. It is unfair to expect them to be loyal to one shop over another. But this caused great anxiety for Kalaivani and after her shop reopened maintaining customer loyalty became a big concern and influenced the way she conducted business.
For nearly a year things ran smoothly. Kalaivani set out with her son early morning to buy products from the wholesale market and ran her shop. In addition to this her husband sent her a part of his salary. The couple endured this separation, with her husband using the bare minimum of from his income having his meals in a modest mess and sending the rest back home.
But come Covid and the lockdown this precarious arrangement for sustenance took a hit. Kalaivani knew that above all, in the tough and unprecedented times of the lockdown she had to keep her shop running. She had to remain the go to person for her village for regular provisions – this despite the fact that the wholesale market started to sell their products at the MRP. Finding her shop open the villagers came to her in a steady trickle and throughout the lockdown Kalaivani's store was where you could get the little you wanted for sustenance. Kalaivani attended to her customers with the same courtesy, smile and energy as they were used to. Just that he was making very little money from the sales. With little or no procurement at wholesale rates she sold products for zero profit. Her customers being hit by the lockdown too often didn't have money to pay, so she even sold to them on credit. What sustained her was the salary from her husband that fortunately kept coming.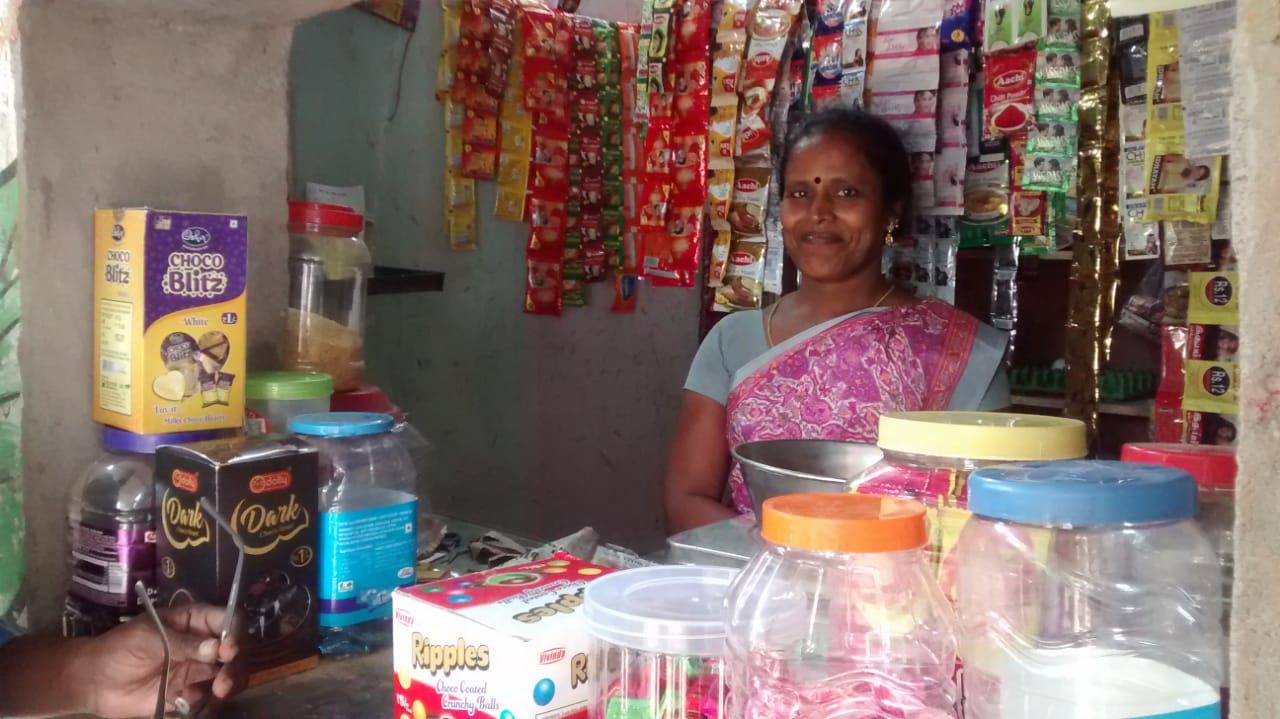 photo taken in October 2019 (pre-covid)
It would be most unfair to conclude that Kalaivani did this out of pure business acumen and as a strategy to maintain customer loyalty. When we spoke to her about those days, she was very proud and happy that she could help her village in whatever way she could, knowing that she still had some sustenance from her husband, no matter how basic.
But this was the lesser of the challenges that awaited her. Kalaivani's mother in law passed away in June. Her husband had to take emergency leave and rush to Angalakuppam. When the head of a family dies matters don't end with a funeral and rituals. There are a hundred matters big and small that crop up that need to be sorted. Emotions and tensions run high and ironing out all matters takes time. This also meant that the 2000-3000 rupees of assured income came to a temporary halt.
With little or no profit from her shop the months of June through August proved to be a battle for survival for her and her family. But this is where as an organisation Sharana has noted time and again, that once you empower and support a woman to take matters in her own hands she takes it as a responsibility and a natural extension of her empowerment to innovate and be resourceful. Kalaivani started to make idli batter and prepare some snacks popularly called "tiffin items" here in Tamil Nadu. All this in addition to the trips to the market every morning and continuing to keep her shop open.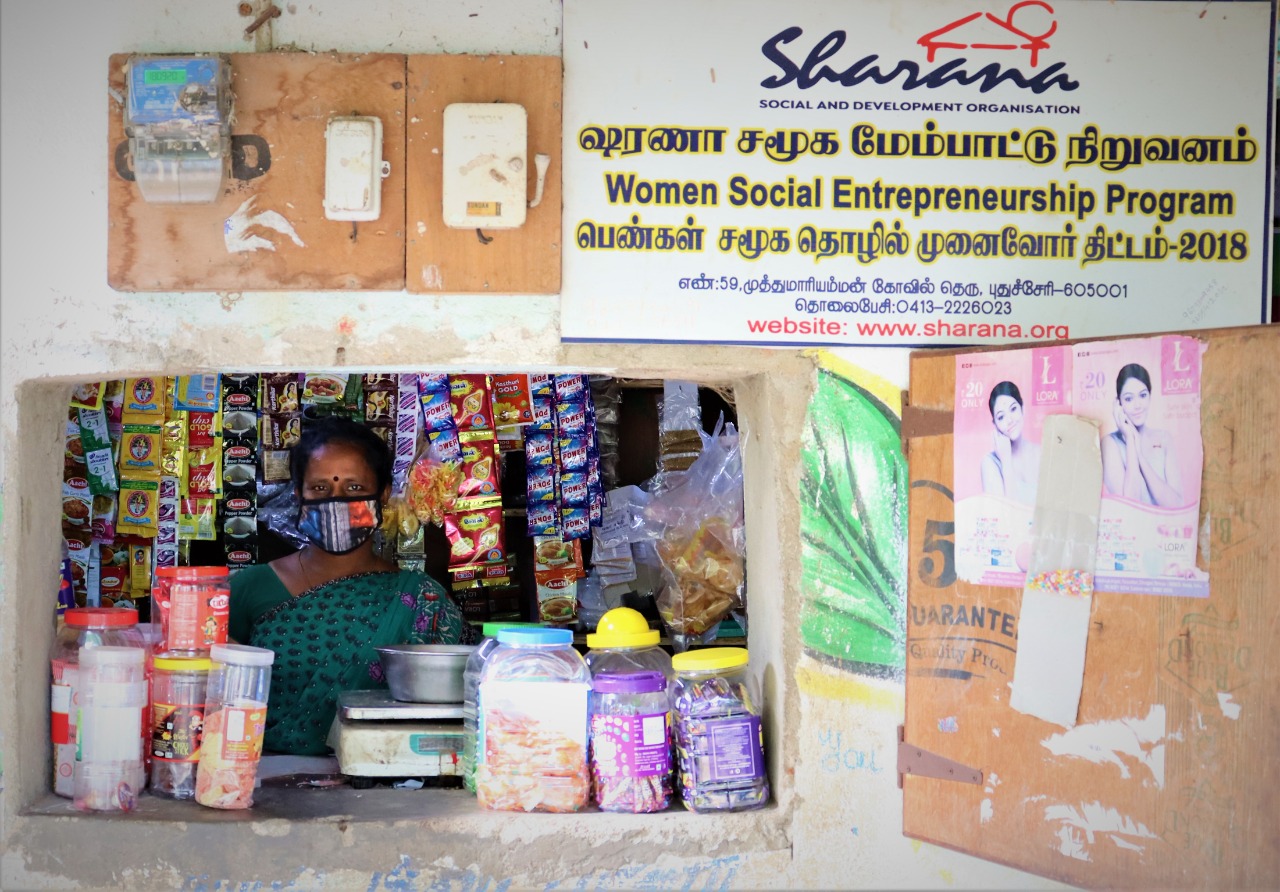 photo taken in August 2020
Finally, with unlock measures announced in September things began to ease slowly. She could again buy products below MRP and sell for a profit, customers started to repay their credits and sales picked up. Her husband is extremely fortunate to have managed to keep this job through this period despite the long leave of absence. Come September end Kalaivani will perhaps finally dare to breathe easy.
It must be added here that the villagers at Angalakuppam have an extremely strong relationship with our social workers based on trust. At every step Sharana is there to help, guide and propose ideas to them for their empowerment. This has been evident in the hope they placed in our guidance during these tough times. Each effort to self help is a small victory in the path to self sufficiency in this village, situated on the border of Pondicherry and Tamil Nadu and orphaned by the development programmes of both.
Angalakuppam comes under our Back to School Program and every child of school going age is covered by the programme. Our connection with the village is old and we realise how far we've come in these twenty years when we think of our very first attempt to empower the women with business loans. That day, the women were utterly destabilised at the mere idea of enterprise and financial independence and they'd left the meeting scurrying to their homes at the mere idea of earning their own money independently.
We've come a long way indeed.
-penned by Mrs. Alo Pal, board member