On the 19th of January- 3 social workers and 1 teacher from Sharana attended a one day workshop on "Embracing and Overcoming Dyslexia".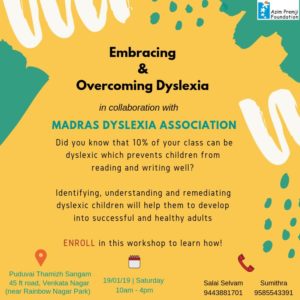 It was organised by Azim Premji Foundation in collaboration with Madras Dyslexia Association.
Topics covered included- what is Dyslexia, how to identify Dyslexia, understanding Dyslexia and how to work with children with Dyslexia. Over 70 teachers from various schools in Puducherry also attended this activity-based workshop with crisply made presentations of each of the topics covered.