The Government has launched a nationwide Swachh Bharat Summer Internship (SBSI) program. It is encouraged by the Prime Minister of India where an option of 100 hours of Swachata practice could to be implemented and recorded by individuals or groups (as a team).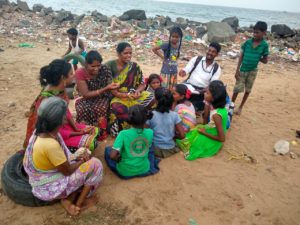 While this program has been made specially to encourage students and members of youth clubs to be more proactive in Swacchata related programs; it is also open to NGOs like ours to take the initiative to join. https://sbsi.mygov.in/
A subsequent report has to be put online and upon completion of the 100 hours of voluntary work, a certificate will be provided to each team/student who will also receive prizes at a local and national level.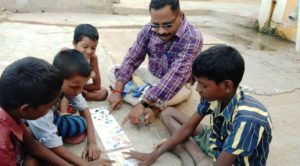 Sharana, as an NGO, has registered in this program and has adopted the sea front area of the Solai Nagar slum to the north of Pondicherry. A thorough integrated awareness program about cleanliness and waste management/segregation drive are being done on a daily basis by the social workers. The Golden Chain Fraternity, the Alumni Association of the Sri Aurobindo International Centre of Education, Pondicherry is financing the project.
Sharana has been working in this area for over 4 years now. Most of the fathers in this area are fisherman and alcoholism remains a huge social issue. We have been conducting weekly activities there; putting into place awareness through sports programs, conducting art therapy, and other activities with the children of this community. One of the local women has offered a small open space outside her home for small activities. Other activities such as sports are conducted on the beach front.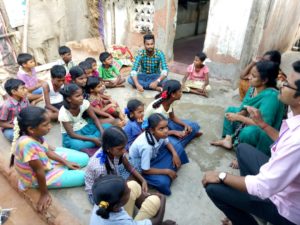 Waste management and proper sorting and disposal of waste has been identified as one of the of the biggest environmental problem of this area. We are taking the opportunity of volunteering to work intensively there for at least 100 hours.
As part of the SBSI program, Sharana will participate in the following activities:
Information-Education-Communication activities
Awareness Campaigns
Door-to-door visits
Conducting village/ school level rallies
Wall paintings on public walls
Movie screenings
Solid Waste Management activities
Waste Collection Drive
Street cleaning, drain cleaning, and cleaning of back alleys
The ability to create a concrete solution to a problem is what makes Sharana and its Seeds of Change program different from others: we want the help provided to last which means a change of behaviour in the community in order to ensure continuity of the positive change. Solai Nagar's slum has no municipal waste collection system; hence, the risk of relapsing to old habits such as disposing waste into the sea is high.
To this end, Sharana will set up of 5 sets of organic and inorganic dustbins in this area. Sharana will then involve all stake holders and with their support propose a regular municipal collection of the garbage. Sharana will work closely with the community to make this step possible. The Golden Chain fraternity will not only finance the equipment required for the project but also contribute to the lasting solution of the effort by financing the dustbins.
Please have a look at some of the before/ after photos of the work accomplished already. We hope that by end July we will able to see a true sea-change.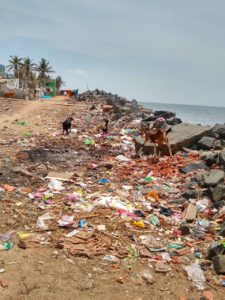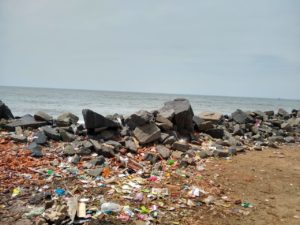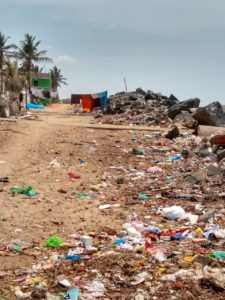 A follow up blogpost at the beginning of August will present the results of the Swachh Bharat Summer Internship program with Sharana