Following on from a previous post, we are now proud to report that we have finished our month-long internship with the Swachh Bharat Summer Internship program (SBSI). From the 19th June to the 19th July, our nine social workers and our coordinator dedicated over 400 hours of voluntary service to cleaning up the fisherman area in Solai Nagar.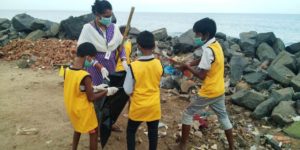 We feel it is important to recognise that this project could not have succeeded without the support and enthusiasm of the children, local community and Panchayat- as well as the relentless encouragement from the office of the Honorable Lt Governor- Dr Kiran Bedi.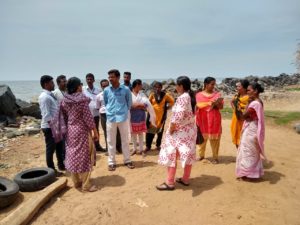 Together, we have succeeded in clearing 704 metres of alleys and streets, filling over 150 bin bags and, at the same time, spreading awareness about waste management. We would like to say a massive thank you to all of those involved, and for the collaboration of both the Panchayat and governmental bodies. Not to forget a special mention and thank you to Golden Chain Fraternity, our financial partners for this program.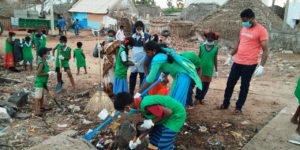 As well as carrying out waste collection and clean-up drives, we also worked hard to create awareness about waste and water management, hygiene, and sanitation through various games and sports activities. This was modelled on our Seeds of Change program, which uses sports and games as tools for disseminating life lessons amongst children and communities.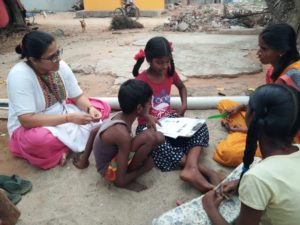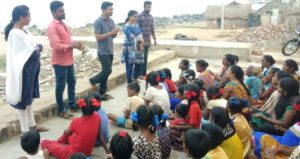 [For more information on Seeds of Change please see: https://sharana.org/program/sports-and-games/]
One successful game used coloured balls to represent different types of waste, which then had to be sorted into corresponding baskets. Another of our fun activities was the 'Recycle, Reuse, and Reduce' game, which uses symbolism to address the overuse of plastic bags. Following these, our social workers allowed the children to lead a discussion on eco-friendly solutions.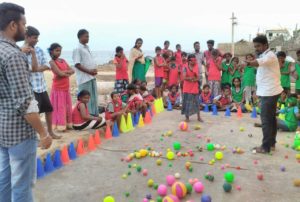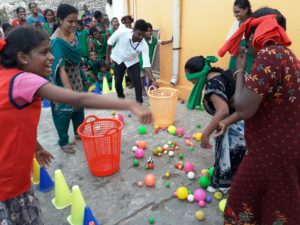 Other successful aspects of this campaign were our wall painting project, movie screenings and rally. The wall paintings were inspired by the children's work in an earlier art activity, which was then re-designed as one image by one of our social workers, who is also a trained art therapist. At the rally, the children held up placards with slogans that they had created.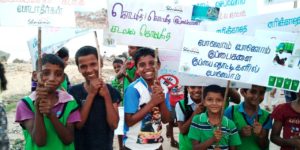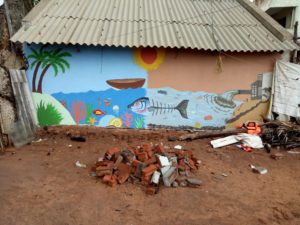 Sharana's participation in the Swachh Bharat campaign has played a key role in our efforts to build bridges between the government and community. We look forward to future collaborations, which we consider essential in ensuring long-lasting development in Puducherry and its surrounding areas.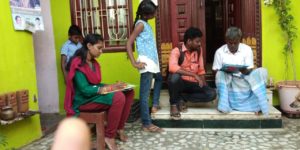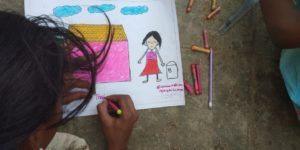 For further government collaboration projects please see the below links:
(https://sharana.org/2018/06/15/collaboration-with-the-raj-nivas/, https://sharana.org/2017/09/16/sharana-team-begins-work-with-pondicherry-central-prison-inmates/, https://sharana.org/2018/07/06/sharana-participates-in-the-swachh-bharat-summer-internship-sbsi-program/)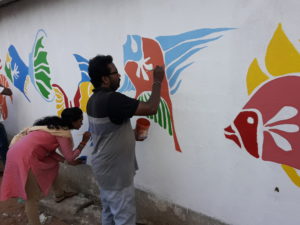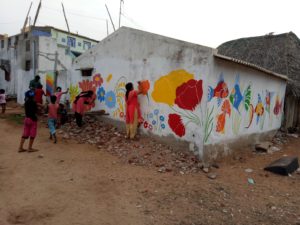 To conclude, although we have been especially involved with the Solai Nagar community in the last few months, our Swachh Bharat internship has followed 15 years of work in the area. The connections we have built in this time have proved invaluable in facilitating real, community-led progress. In addition, we are pleased to say that our work in Solai Nagar is not over; we will continue to support the changes being made, with our ever-present intention of withdrawing once the community is able to flourish independently.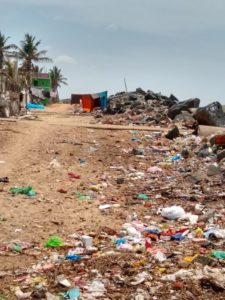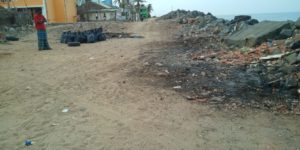 To end, we would like to once again thank the team of the Golden Chain Fraternity for their financial support in our Swachh Bharat Summer Internship initiative in the fishermen area in Solai Nagar.