On Monday last week the 5th batch of the VTC program, now young carpenters working in around wood units in Pondicherry received their certificates and new tool kits.


This year marks a successful completion of 5 batches of students who have passed out and found work successfully- truly an achievement that brings a smile on our face as well as the hearts and homes of 50 families!


The distribution was a small and private event at Sharana's office building; the students of the 5th and present 6th batch were joined by local sponsors Shrimoyee, Somkanti and Partha, Rajkala, board member Dr Nalini and her husband, as well as Mani and all the social workers of the organisation.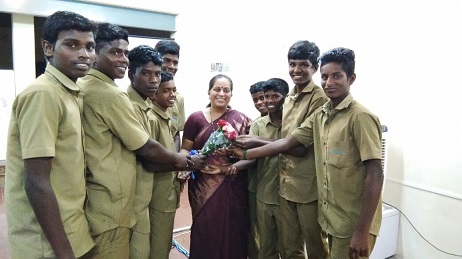 The fun filled evening comprised of a group art therapy activity between the old and new carpentry students, a games session where the guests joined in as well very sportingly, a photo and video projection of the students' journey through the course, a simple certificate distribution and ending with a sumptuous dinner cooked in-house by team Sharana!


The certificate distribution evening is always one of laughter and emotions, and while we miss the 5th batch dearly- it makes us so proud to see them settled in their new jobs and supporting their families. By the end of the evening, the 6th batch was looking forward with renewed vigour to continue their journey at the VTC.