-penned by Mrs Alo Pal, a board member.
Pulled out of school when she got her period at the age of 13, Pooja was pronounced a bad omen by a priest.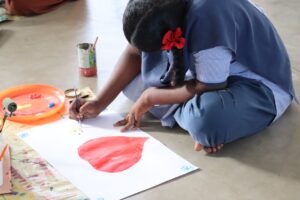 When our social workers approached the family, they were told she would resume school after her period. That did not happen. When questioned, her mother said they were unable to pay for a new uniform. This was essentially an excuse to stall her education and appease the spirits. A decision was taken to stitch her new uniform and pay for it and with persuasion, Pooja resumed school.
This was not the first time Pooja had to abandon her education.
Oldest of four siblings, two of whom were enrolled in Sharana's "Back to School" programme, she was pulled out of school in the 6th standard to babysit her newborn fourth sibling. Her mother's income was all they had as her father was an unproductive alcoholic.
Today Pooja goes to school with these battles behind her. Obstacles, social taboos, abuse and interruptions have not bogged her spirit. She is a regular at our evening tuition centre and weekend drop-in programmes where she goes out of her way to help other children. "
This was a draft on an account I had started a few years back, cut to 2018 with an imminent all-important 10th board exam. Sharana got a call from her school saying Pooja wasn't attending classes of late and she risked jeopardising her 10th board exam. Upon enquiry, we learnt that overburdened by a crippling debt trap, the family had moved to Coimbatore repaying their loans by leasing out their government accommodation in Pondicherry. Sharana contacted the family and persuaded reluctant parents to allow her to study in the limited time at hand before the exams, and coordinated with Childline and the Child Welfare Committee (CWC)… Pooja secured good marks.
On returning to Coimbatore in 2019 she enrolled and worked at a typewriting institute, she acquired a skill as well as contributed to the family income. Come lockdown in 2020 everything changed and Sharana learnt the family was debt-ridden again and had relocated back to Pondicherry in a rented space in another locality.  Now that she was 18 years old her parents were keen to marry her off. Sharana intervened and counselled the parents long and hard to allow her to pursue a vocational training course that could serve her in good stead and be a secure source of income too. Pooja was determined to continue to be productive and also get skilled. Her willingness to pursue an education wasn't dented despite all the odds she had faced thus far. After much persuasion, Pooja was enrolled for a Diploma in Dialysis at the Mahalakshmi Institute of Paramedical Sciences in September last. Her classes right now are online. But Pooja is one exemplary story of a girl determined to chart her own course in life. No circumstance, however overwhelming has diminished her determination to be self-reliant. Sharana has been with her throughout this journey towards education and empowerment.
-names and details in this story have sometimes been edited/omitted to protect the identity of the child