A shout out to Vignesh- who stood 3rd in his entire school for the 12th standard examinations- a proud score of 478 /600 marks. The "Thinakaran"  covered this in their paper and we are happy to share it forward.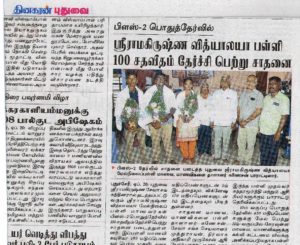 Earlier in the year  2016 -17 he secured 484 /500 marks in his 10th standard exams and stood 2nd in his school. Congratulations!
Sharana's team is proud of him and of all the students who have worked hard for their board exams in spite of oftentimes going through tough social, psychological and economic situations- and yet surfacing stronger and victorious; we will continue to do our bit- year after year- you make us proud.