-penned by Alo, board member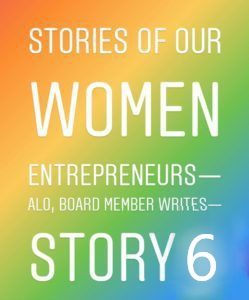 When caught in an eddie every effort to save yourself results in exhaustion and hopelessness and you are left with little option but to wait and pray for rescue to throw you a lasso. And that changes everything. Puja was caught up and spread out thin in the relentless circle of poverty and hunger and needed her lasso desperately.
In her 40s, widowed and working as a housemaid Puja eked out a meagre living to provide just the one decent meal a day to her children. To supplement the family income she bought a small quantity of flowers from the wholesale market and sold them in front of the Sacred Heart Church on a little plate sitting by the roadside. On Tuesdays and Fridays, considered auspicious, her children went door to door selling a few more flowers. She made about 200 rupees a day.
Puja's Daughter Arati attends the Sharana Drop-in Centre and that is how our social workers knew of the difficulties of her family. Puja was brought under the umbrella of the Women's Entrepreneurship Programme and a loan of 10,000 has literally catapulted her income to 700-800 a day. The loan money was used for buying her a table, a chair, a parasol, a lamp and most importantly the capacity to buy significantly larger quantities of flowers from the whole sale market, and the demand for flowers being high the cycle of increased purchase and increased sale followed very quickly to result in a tenfold increase in her daily income. She has also increased the variety of flowers and is tuned to the demands of tourists too.
The loan will be paid in good time; she now has a smart phone and recently bought a Scooty on EMI to facilitate the procurement of flowers. She has a bank account and deposits her money regularly.
The door to door sale continues but more profitably, and in the festive seasons she hires extra hands to weave garlands to meet the spike in demand.  On auspicious days she is able to touch even 2000 Rs a day! In the south, keeping in mind the beautiful tradition of women wearing flowers in their hair, Puja sells her garlands with free hairpins as a mini marketing strategy.
Her children are supportive and protective of their mother. This loan has changed her little universe significantly. She's out of the troubled waters and uses the flow of the currents to her advantage now. Puja is well on her way to a world and existence that hitherto she never dared to dream. It is never a smooth sail but we believe she's equipped to handle the eddies.
-Sharana has changed the name of the Women in the above account as well as omitted some personal details to protect the identity of the family