-Banupriya Jagadeesan- Sharana's storytelling enthusiast pens her experience at Sharana once again
I am thrilled to share that we have been having regular storytelling sessions for more than a year now. And it has been possible with the immense support of the people (and children) at Sharana.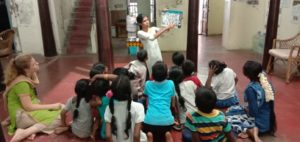 Planning activities is something I find very challenging in my sessions. I focus on keeping them relevant to the story as well as suitable to learners across ages. Typically in a one hour session, I narrate for about 20 minutes initially and the children are engaged in activities for the next 40 minutes. So I need to plan different activities to sustain the attention of all learners.
An Indian Beach by Day and Night- experience of using one book for various activities
This is a gorgeously designed picture book based on the Elliots Beach in Chennai. On one side, it shows pictures of different activities that happen on the beach during the day and night. And on the other side are a variety of creatures living in the sea. Children enjoyed looking at the pictures and shared their experiences of visiting the beach.
They drew and spoke about things they see or do at the beach, and also the time of the day they like to go. Many children told that they like to go fishing, eat pani-puri, fish, etc, and drew some of the pictures inspired by the book like rope-walking, balloon shooting and various shops and fishes.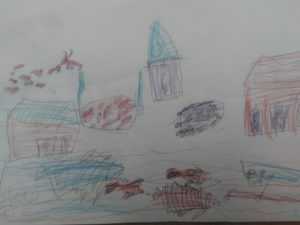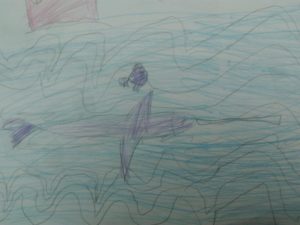 Vishnu, a 7 year old boy shared that he likes talking to a fish.
Risha, a 10 year old girl shared that she likes to collect sea shells, build sandcastles and watch events at the beach. In her picture, she had drawn two girls buying ice cream at the beach at midnight.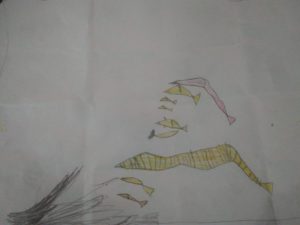 In another session, we learnt the different times of the day in order – Sunrise, Morning, Afternoon, Evening, Sunset, Night. I made the children repeat and at times, paused in between for them to guess the word. Some of them gradually showed interest in guessing the term.
…..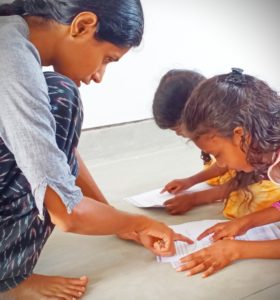 It has been a fantastic experience for me with the children so far. Looking forward to many more experiments and learning this year too!