One of Sharana's fundamental beliefs is the right to Literacy and education.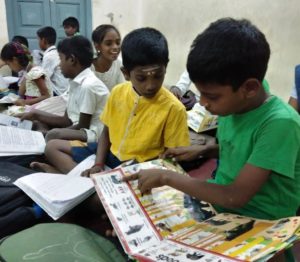 The Back to school program, has been working closely with children, communities and schools since 2000.
Among other activities we take books during our visits and encourage the children to read freely and without hesitation or self-consciousness and develop a love for books, a near dying hobby in this invasion and easy availability of screen media.
In recent collaboration, with the support from Samskriya Foundation(through a donation of books) we took books and gave them to dozens of schools with the aim  that the students had free access to good books and learnt to maintain them so that they could be re-lent and re-used by other children.
Our social workers also carry books to slums, streets and village communities to give hundreds of children access to culturally relevant material and stories apt to their age and level of English and Tamil.
On International literacy day, please find in this post a few photos of our efforts in this ongoing drive for education.