On the 28th of February, we held an Eye Camp for the members of Kuruchikuppam and Vaithikuppam in collaboration with the Alumni of the Sri Aurobindo International Centre of Education (Golden Chain) with special support from the team of Aravind Eye Hospital. Particular attention was given in this camp, for patients above 40 years of age.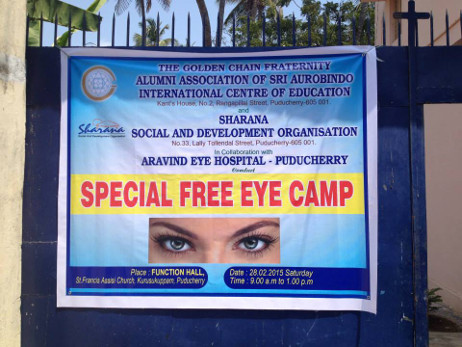 Already aware of the actions of Sharana (through Sponsorship, Evening Homeowork Help Centre, Microcredit and other programs), the patients from these areas walked in with a smile to have their eyes tested. The volunteers from Golden poured in throughout the day, to help wherever required. (serving snacks, inviting the residents to attend the camp, accompanying the patients from one counter to another, registration, etc)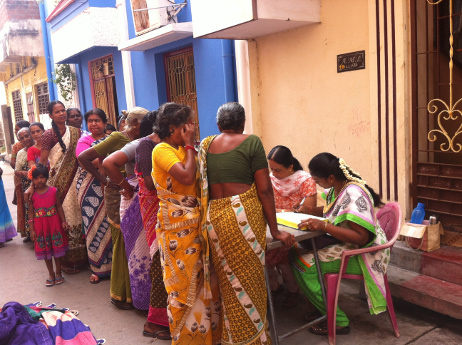 The day started at around 9 am with the arrival of 17 staff members from Aravind Eye Hospital, 2 doctors, nurses, opticians etc with all the necessary equipment. Soon everything was installed and the patients began arriving sometimes in small numbers, and sometimes in bigger groups.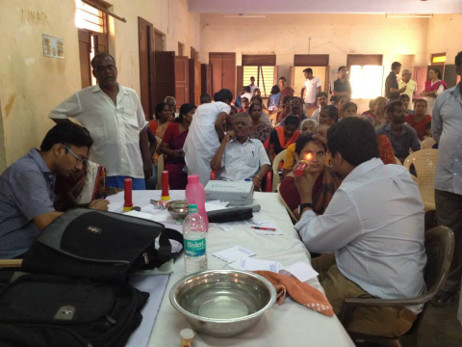 After completing the formalities at the registration counter, the patients received a registration card, and started going through the different stands in order: the first was checking of eye power, (both short and long), then a consultation with the doctor, then according to the diagnosis- blood and eye pressure measurements and a potential sugar check up, determination of the patients who require correction glasses, and finally the choice and purchase of the glasses.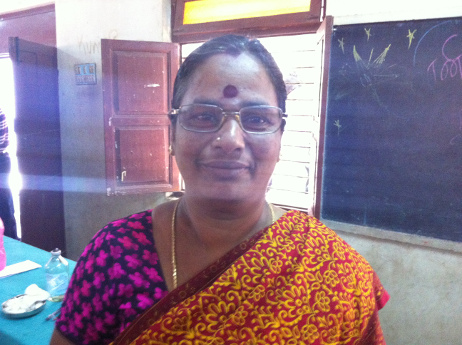 For the patients who required cataract surgeries, they were kept aside, and will be taken to the hospital on a date which Aravind Eye Hospital will set for them according to their time-table. (after detailed counseling)  16 patients have been identified for cataract surgery, and will have their operation done within this month of March.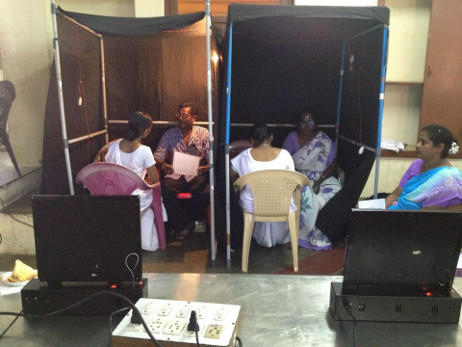 Between 9 30 am and 3 30 pm, almost 300 people had their eyes checked, and 110 of these left with glasses with frames selected by them. These glasses were already being distributed by Aravind at a very reasonable price.
To further help out the population Golden Chain helped the beneficiaries by paying for half of the cost, the other half being borne by the beneficiary themselves to empower the patients and to encourage them to take care of the glasses and to wear them regularly.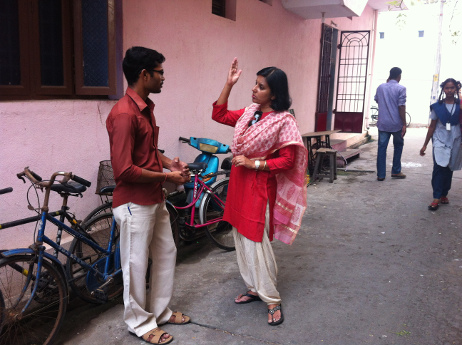 Thank you for your expertise and perfect sense of professional "social service with a smile", Aravind Eye Hospital. As for Golden Chain, it has been a pleasure to have the involvement of the Alumni of the Ashram School in social community service: we are sure that this is one of the many to follow very soon.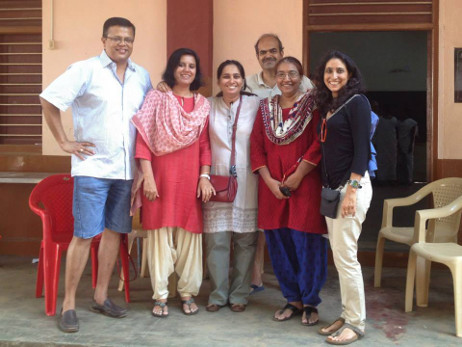 On this occasion we would also like to sincerely thank our partner KelOptic, who have given us almost 900 frames again this year. Read more about our partnership here: http://www.keloptic.co.uk/supportive-partnership-keloptic