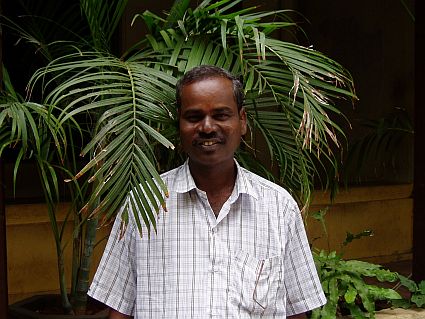 Sekar was a driver with Sharana for ten years, until he died of cardiac arrest very suddenly and very unexpectedly on this very day last October. He was survived by his wife, Shenbagavalli, who works with the tailoring Unit of the organization A Way with You (AWWY), and his three children: daughters Kanchana (18) and Gayathiri (13), and son Kalaiarasan (16). We use the opportunity of this post to pay tribute to Sekar for his service to Sharana, and to celebrate the achievements of his daughter Kanchana, who has completed her 12th standard exams and secured an admission to Nursing School!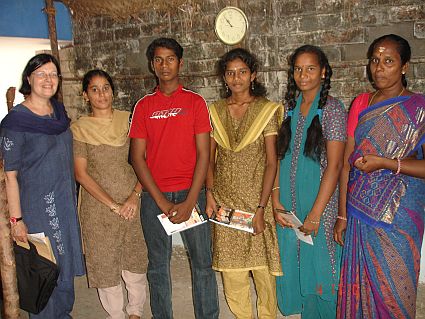 Left to Right: Brigitte Peltier, her god-daughter who shares the name Brigitte, Sekar's three children: Kalaiarasan, Kanchana, Gayathiri, and his widow: Shenbagavalli.
Sekar's family struggled to make ends meet, in the best of times. They live in an unfinished house constructed with a Housing Loan from Sharana, along with Sekar's brother and family. Since the construction is still incomplete, the house has no completed bathroom, no interior doors, and many unfinished sections.
Though Sekar was himself a driver, his children had to walk to their schools daily. Educational success under such difficult circumstances is a considerable achievement, and we are most proud of Kanchana for her achievements, and wish for her continued success. Kalaiarasan wants to complete high school and go into finance. Gayathiri is still young and considering her options.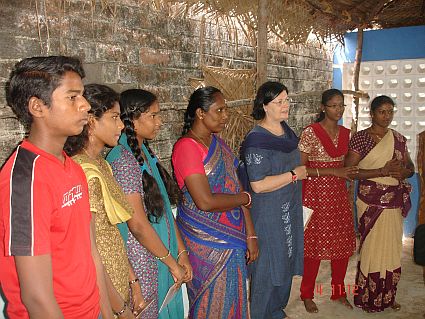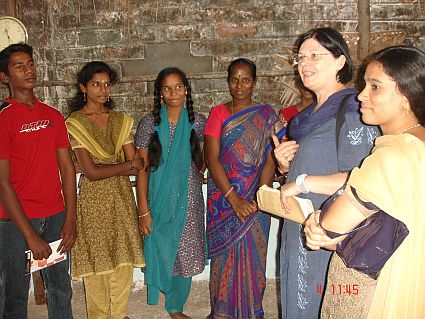 Kanchana's is being sponsored for her higher education by Brigitte Peltier, whom we see pictured here during a visit to Pondicherry. Brigitte was kind enough to spend some time with the family, encouraging Sekar's children to persist in achieving their educational goals, and reminding them to keep in mind always the worth and value of education. She also organized a dinner at Surguru the same evening, and invited the family to join.
Join us this week in remembering Sekar's good cheer and dedication of spirit, and congratulating Kanchana for her achievements. No doubt, her father would also have been as proud as we are.