Sharana was delighted to have been involved in yet another initiative of the Government's nation-wide cleaning projects: Swachhata Hi Seva 2018 (SHS). The drive was initiated on the 15th of  September  until the 2nd October, inviting NGOs, schools, colleges, social, cultural and political leaders, corporations, government officials, collectors and sarpanches, to participate for 10 days in a push to clean up their local environments. The event was held in the run up to Mahatma Gandhi's birthday, a day of significance for India and a public holiday. It also happens to be the 4th anniversary of the Swachh Bharat (Clean India) Mission, which began in 2014.
Over 10 days, Sharana worked in three areas: T N Palayam Government Middle School, Chettipet and Solai Nagar. Our work with the first two locations were on request of the Honourable Lieutenant Governor's office. It may be noted that it was with the encouragement of the Honourable Lieutenant Governor Dr Kiran Bedi that we began our work in T N Palayam, with the Irular tribe in early 2018. Building a close relationship with this office has been hugely important to Sharana, and it has flourished with every new collaboration such as SHS.
In fact, Dr Bedi posted about Sharana's work from her official twitter page:https://twitter.com/LGov_Puducherry/status/1044137462681919488?s=19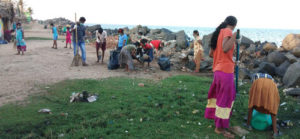 The third location, Solai Nagar, was chosen because it is not only an area that Sharana has worked in for many years, but because it was the main area in which we carried out the last cleaning initiative: the Swachh Bharat Summer Internship, 2018*.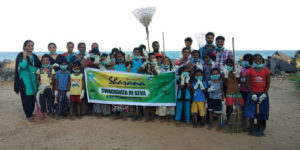 Over the 10 days we conducted the following activities:
-Mass Cleaning Drives
-Awareness through Sports and Games Activities (derived from our Seeds of Change program, which uses different fun activities to address an array of issues. In this case, the sessions were specifically designed to talk about waste management)
-Two Awareness Rallies (in Chettipett and Solai Nagar)
Importantly, we reached out to:
30 children in T N Palayam
77 children and members of the community in Chettipet
55 children and members of the community in Solai Nagar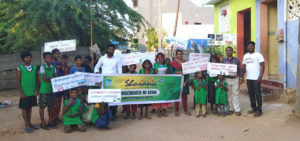 These were a busy few days for our team who volunteered their time to the project outside of their regular responsibilities; the drive was a great success! With the help of our child beneficiaries, not only was our team able to sensitize the local communities as to the issues that surround waste management, but they were able to help them find sustainable solutions. We look forward to continuing our work with these children and communities, in order to create further positive change in Puducherry and its surrounding areas.
*To find out more, please see: