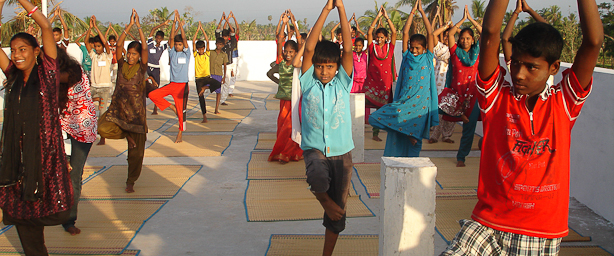 Sharana was established in July 2000 by Rajkala Partha, a Chennai-trained social worker with a post graduate degree in Rural Development from Madras University. After working for ten years at another  NGO in Pondicherry, Rajkala started Sharana. The first beneficiaries were identified by her—school drop-outs working at local eateries, or washing clothes on neighbourhood streets.
At the same time, recognizing the need to identify consistent methods to sponsor Sharana's beneficiaries, Muriel Baube and a group of volunteers in France established Sharana France in 2000. Each of the volunteers of Sharana France had experience living in or visiting Pondicherry, and working with Rajkala. This independent, self-governing association then gradually began concerted efforts to build what is today Sharana's Back to School program.
Gerard was hired as an office assistant within the first year of Sharana's establishment, though he served initially much as one of the organization's first social workers. It was he who identified the slum of Kannadassan street, home to 70-80 families which became the first organized community targeted by Sharana. Murugaiyan, already on board as the office's key administrator, took complete charge of Sharana's organizational infrastructure so that Rajkala was freed to return to the field.
The "field" at this stage was Angalakuppam, a mainly agricultural village on the Cuddalore road, about 15 kilometres from Pondicherry town. The village was identified by Murugaiyan as a place with specific needs: situated close to the Tamil Nadu-Pondicherry border, it is positioned such that it cannot claim the benefits and facilities provided by either state.
The work at Angalakuppam, for nearly the first year and half, involved daily conversations with villagers in order to know their needs, and to enable them to generate ideas for their own collective empowerment. Among the first ideas proposed were the critical need for a dispensary (given the distance to the local Government hospital), a crèche to free older siblings from the responsibilities of childcare and enable them to return to school, and a centre to house these activities. Other interactions, however, were neither straightforward nor always easy. During the first conversations about the possibilities of micro-credit loan schemes, for example, the village women began to pick up their bags to leave—complaining that they knew nothing of mathematics and loan-procurement, not even being responsible for purchasing vegetables for daily household consumption. So, what, then, would they know about handling micro-credit funds to start businesses?
Gradually, however, women began to come forward, most typically for loans to procure cows. At this time, a woman by the name of Selvi, who had also submitted a request for a loan to obtain cow asked to change her plan—and for Sharana's unconditional support of her alternative idea, which involved obtaining a loan of double the typical amounts given out. Surprised, the team asked her what she had in mind. She responded that she was seeking a loan for hay. "All the other women in the village are getting loans for cows," the woman explained, "Will they not have a need for hay?"
Selvi's enterprising spirit was matched by others, including a second woman, Devi, who decided to open an idli shop on the route that the villagers had to travel to get to their work in the fields. Within 15 months she obtained and paid back three loans: one to start her business, and two others to electrify her house so as to purchase an electric grinder, allowing her to produce the batter herself rather than being forced to purchase it.
The community centre that stands in Angalakuppam today not only addresses urgent local needs, but stands for the grassroots community empowerment Sharana ideally aims for in all its projects. Only funding for the micro-credit schemes and the Centre's activities have been procured from elsewhere [Association for India's Development of Health and Education (ADISE, France); Sharana France; Women of Europe and A Way With You (Belgium)]. Otherwise, each initiative implemented in Angalakuppam was developed from ideas and needs expressed autonomously by the villagers themselves. Residents formed an association in order to acquire land from a local farmer at reasonable cost. Local villagers participated in the construction of the physical building. Govindamma, who now serves as a caretaker and aid to teachers in the crèche, started working as part of the building crew, and the other three employees were from local families. Care was taken to ensure that the building matched the architectural style of other buildings in the village, allowing it to be seamlessly integrated both physically and conceptually into village life. It took much time, persistence, and effort develop the idea for the Centre and its activities; it took time also for villagers to accept that one of their own and a woman at that, Lakshmi, could serve as paramedic. But today the crèche has nearly 30 children (ages 18 months to 5 years), a trained teacher (Tamil Selvi), the dispensary is rarely empty, and the Centre at Angalakuppam is both run by women from the community and closely attentive to changing local needs.
Angalakuppam is important in Sharana's history for another reason as well. As Sharana's first full-fledged, successful rural development project, it helped the organization establish a sense of possibility for its subsequent undertakings. Angalakuppam was in some senses a model village: receptive to change and new ideas, the occasional resistance notwithstanding, and ultimately exuding a positively contagious feeling of solidarity and a spirit of self-reliance. Being a mono-caste village meant, too, that social hierarchy was not the obstacle it would be elsewhere. All told, the experience of working at Angalakuppam helped boost the morale of Sharana's growing team, and gave them the confidence to reach out to other areas.
In the coming years, Sharana turned its attention to other neighbouring villages—Chinnakalapet, Sodhanaikuppam, Aranganur, Mathur —similarly attempting to empower local communities at the grassroots level to identify both their needs and the methods by which they wish to address these, drawing on the community's own strengths and human resources in order to implement educational, micro-credit, and other social development programs.
As circumstances and community needs dictate, programs have been rolled back or rolled out and developed. Rural development and educational projects remain at the centre of Sharana's activities to this day. In urban Pondicherry, the Gayatri House gathers together children from the city's streets and slums, providing vital shelter and support for children requiring creche care, to those at all school-going levels. In Aranganur, the Vocational Training Program in Carpentry provides professional training for boys who are too old to be returned to the school system, but young enough still to acquire a marketable skill and a chance at a better employment future. School graduates pursuing college-level studies can be supported, jointly with the children's parents via provisions in the Back to School initiative. The Sports and Games program teaches urban and rural communities about environmental issues and waste segregation via specially designed play and games activities. And so Sharana continues to grow – both according to its own original mission and vision for a better future, as well as according to the directions indicated by local communities.