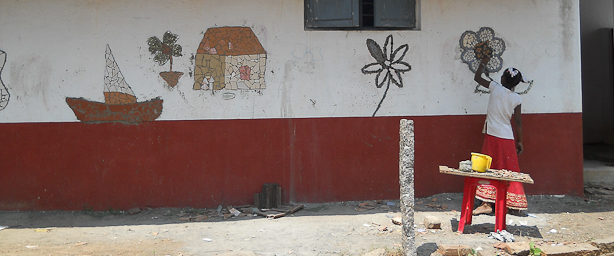 The Gayatri House, established in March 2013, is a safe haven for children otherwise left unattended or poorly attended in the streets and slums of Pondicherry in the day. The reasons may be various including the lack of access to crèches and similar govt infrastructure. We consider it important that children remain with their parents and the primary responsibility of a child's upbringing and wellbeing continue to be the prime focus of the parents. To this end Sharana works closely with the families of the children in Gayatri House. This space is therefore not a residential care facility
Before Sharana's intervention, many of these children were forced into child labour or begging on the streets to contribute to the family income and many of them suffered from substance and sexual abuse, nutritional deficiencies, and sleep deprivation.
Social workers identify Gayatri House beneficiaries from migrant, itinerant, and homeless populations and encourage them to visit the Drop-in Centre Office.
The children are then grouped as follows:
• Crèche (1-3 years)
• Pre-School (4-6 years)
• Drop-in Centre (7-18 years) for at-risk children who are school-going and can therefore only attend on weekends
• Children who live in Pondicherry's slums and are reached through the Mobile Library Initiative
The Gayatri House aims to provide children with shelter, attention to their basic needs, and access to basic schooling to facilitate their assimilation into mainstream institutions. To this end, the services routinely provided include: showers (when necessary) and hygiene care, psychological attention and monitoring as required, basic schooling, instruction, educational activities (such as art and music), lunch and snacks, medical assistance as necessary, transport (from dwellings or to access medical care), and recreation and sports. As nights in the streets is not the best of spaces for a child to sleep, rest and recuperate the Gayatri House is also a space where this need is fulfilled in terms of a peaceful, safe afternoon nap.
Over the years, with consistent outreach work with the families we observe that increasingly children come to the Gayatri House bathed and clean, medical emergencies are handled by the families, many have moved out of the streets onto slums, and consistent counselling has resulted in families expecting less material support and automatic help for second or third siblings.
In addition, social workers undertake a range of outreach activities to identify beneficiaries and follow up on their progress and care, encourage women's empowerment, and create awareness about the importance of education so that children and their families are motivated to remain in school against all odds.
Gayatri House children also participate in Summer Camp activities organized for Sharana beneficiaries in all programs.
Education
The Gayatri House welcomes children from infancy to pre-school age. Education programs are structured according to children's ages and their psychological needs. After reaching the centre, children have and are then split into 2 main groups according to their age and education level.
The crèche education program is more flexible, providing children with a safe, structured environment off the streets where they can rest and play. Greater structure is introduced with pre-schooler activities, which are focused on reading, writing, drawing and other skill development which will help them once enrolled at school.
Children in the pre-school program are also supported in their studies when they start school, following Sharana's Collective Sponsorship model. They are integrated with the drop-in centre at that stage.
Art Therapy
Life lived on the streets and slums leaves the children emotionally unstable. Through creative activities such as painting, dance and music they can find a simple and fun instrument through which to express themselves and hopefully address their emotional and psychological needs. The main aim of the sessions is to release the spontaneity and feelings of the children.
The Mobile Library Program
This project is an initiative within the Gayatri House Program that aims at maintaining a constant relationship with and ensuring consistent support to the families of the slums, particularly the women and the children. Books, reading, and other educational material are taken to designated slum areas, thereby working with children and families in their own environments. Providing academic support as well as medical care, some nutritional care, and psychological support are also given.
The ability to reach children and families where they live and work, has always represented a fundamental aspect of Sharana's philosophies. Since September 2014, the Gayatri House team has worked with a particular slum every day of the week in order to become the direct point of contact between Sharana and the children, their families and thus their community.