Last evening at the Raj Nivas, Mrs Rajkala Partha, Sharana's founder was presented the Front Runners Award by Puducherry's Honorable Lt Governor Dr Kiran Bedi and Chief Secretary Mr Ashwani Kumar.
The evening was attended by several dignitaries including the DGP Sundari Nanda and the District collector Mr Chaudhari Abhijit Vijay.
Officers from across the government departments as well as other forerunners in different fields received the Front Runners Award. It was given to those "who went the extra mile all through the year with #TeamRajNivas". This event was part of the first week celebrations of the New Year at the Raj Nivas.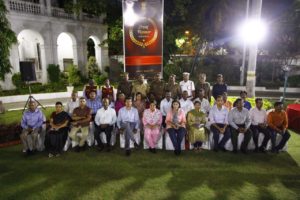 Sharana has been working alongside the team of the office of the Lt Governor on several programs and initiatives and looks forward to continue being part of all these innovative actions initiated by Dr Kiran Bedi.