Sathiya Priya, sponsored since 2005, is presently pursuing her second year in Bachelors in French course at a reputed Government college.


She is the youngest of 4 sisters, born to parents who never made a distinction between boys and girls. the father always believed in his 4 children, he was proud of them and made sure that they could study as much as they wanted. Marriage and routine household life was not the only and ultimate goal. He was always an example we referred to in Sharana, a true inspiration. The mother, a cardiac patient, was also very supportive of her daughters' education.
Unfortunately in January this year, the father passed away due to a sudden cardiac arrest- leaving the entire family in a state of shock and grief. But he had left behind strong daughters to support their mother. after a few weeks they took back their old routine, determined to fulfill their father's dream. Thanks to the support from Sathiya Priya's godparents, we were also able to help the family with basic household provision for the house for 6 months.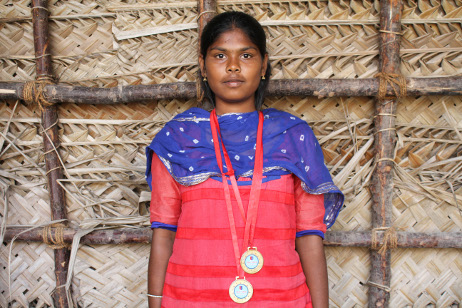 Sathiya Priya continues to go to college, where she is a regular and hardworking student. As part of her extracurricular activities, she recently won two gold medals in Skeet Shooting event at the NCC camp (National Cadet Corps).
Sharana is very proud of Sathia Priya's achievements and we wish her all the best in her future projects.