For a few hours on the 11th of February, our resourse centre in the village of Angalakuppam, turned into an Eye Hospital. We held an Eye Camp for the members of Angalakuppam and six other surrounding villages. Special attention was given in this camp, for patients above 40 years of age. Already aware of the activity in the dispensary of Angalakuppam, the patients walked in with a smile to have their eyes tested.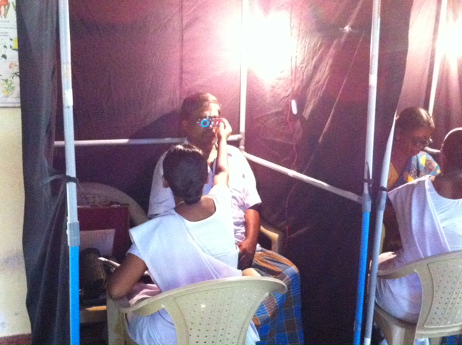 The day started at around 9 am with the arrival of a dozen staff members from Aravind Eye Hospital, doctors, nurses, opticians etc with all the necessary equipment. Soon everything was installed and the patients began arriving sometimes in small numbers, and sometimes in bigger groups.
After completing the formalities at the registration counter (where our social workers were to help out), the patients received a registration card, and started going through the different stands in order.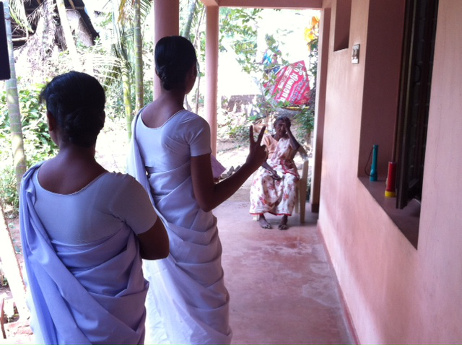 The first was checking of eye power, (both short and long), then a consultation with the doctor, then according to the diagnosis- blood and eye pressure measurements and a potential sugar check up, determination of the patients who require correction glasses, and finally the choice and purchase of the glasses. For the patients who required cataract surgeries, they were kept aside, and taken to the hospital on the very same day. (after counseling)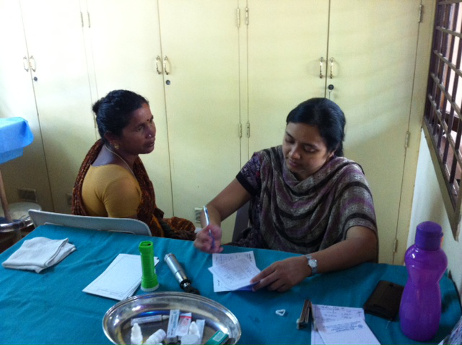 In less than 3 hours, 150 people had their eyes checked, 17 of them were operated free of cost for cataract at the Aravind Eye Hospital (in the last couple of days), and 39 others left with glasses with frames selected by them. These glasses were already being distributed by Aravind at a very reasonable price.
To further help out the population Sharana helped the beneficiaries by paying for half of the cost, the other half being borne by the beneficiary themselves to empower the patients and to encourage them to take care of the glasses and to wear them regularly.