Caroline, a professional art therapist joined us in the summer of 2013 and has been keeping Sharana colourful and zesty with her creative presence since. She works with the children at our day care centre has never missed a day and has been a source of constant support and encouragement to the children three days a week.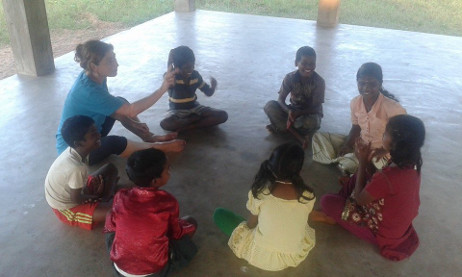 Caroline works with children from the street and slums of Pondicherry who live a life of extreme hardship. They have grown up with little constancy in their lives and this is where Caroline stepped in with her Art Therapy sessions. She brought in a discipline and constancy through her workshops and this has helped the children immensely.
There has been a marked difference in the children's behaviour since her arrival. Having grown up with trust issues the children have accepted Caroline into their fold and have responded beautifully to her disciplined nurturing.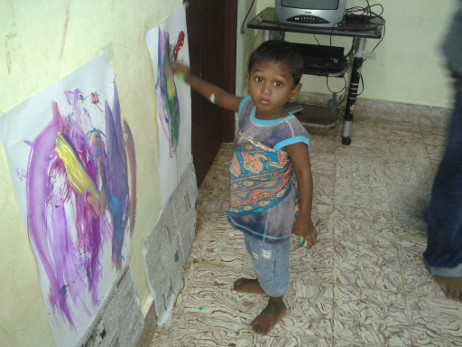 Gone are the days at the day care centre when the children would fight tooth and nail over a crayon. Her regular workshops have instilled an unprecedented poise and harmony amidst the children her Art therapy sessions have not only been fun for the chidren but have been a sort of collective counselling sessions.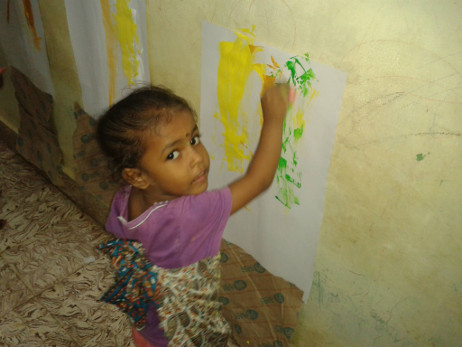 The classes had a very modest beginning. Having only limited resources to offer to this new project Sharana helped Caroline within their capacity. But this did not deter her, however, and she found the money through friends and contacts to buy all the material she requires for a whole year.
She has also kept some money aside to frame the "before and after" paintings of the children at the day care centre.
In July, we will putting up an exhibition of the art-work of our children. Please look out for more news on this project.